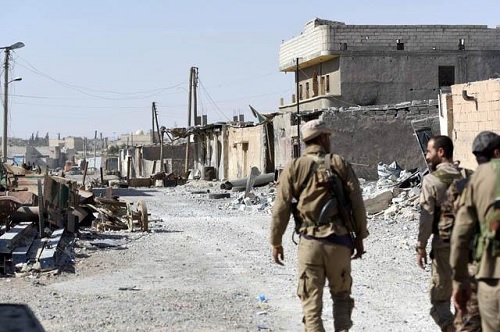 Thirteen Islamic State militants were killed in an airstrike in western Anbar on Wednesday.
"Army jets shelled IS members gathering in Rawa and Qaim towns, western Anbar, killing 13 members, most of whom are foreigners," the source said.
"IS transferred its main headquarters on main roads in the two towns to residential areas in the wake of army airstrikes," the source said.
On Tuesday, Sputnik news agency quoted local and security sources as saying that the group gathered the militants at the 25 KM region, west of Rutba, located western Anbar, to attack Iraqi common borders with Syria and Jordan.
Lt.Gen Abdul-Amir Yarallah, commander of the Nineveh Operation, ordered to besiege IS havens in western Anbar preparing to invade them, a military source said earlier this week.
Iraqi fighter jets reportedly dropped last week millions of leaflets informing locals that liberation offensives for the province were nearing.
Fighter jets from the Iraqi army and the international coalition have also regularly pounded IS locations in the province.