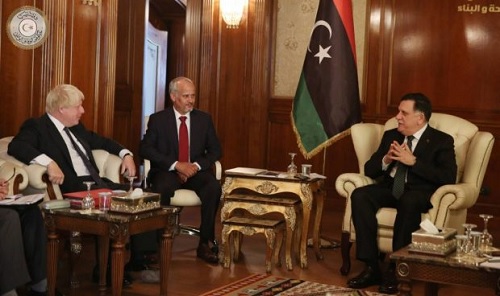 The Foreign Minister of the UK, Boris Johnson arrived in Tripoli and met with the Head of the Presidential Council, Fayez Al-Serraj, on Wednesday.
The British ambassador to Libya, Peter Mellitt also attended the meeting.
Johnson renewed UK's support for Libya's Presidential Council efforts to strike agreement among all parties in the country.
He also said that the UK will provide £9 million to help Libya fight the illegal immigration, human smuggling and human trafficking issues.
"Libya is the front line for many challenges which left unchecked can pose problems for us in the UK – particularly illegal migration and the threat from terrorism, that's why it is so important that we work with the Libyan government and our partners to help bring stability to Libya, stopping it from becoming a fertile ground for terrorists, gun-runners and people traffickers in close proximity to Europe." The UK's FM said.
The aid package announced by Johnson includes £4m to support the removal of mines and improvised explosive devices, particularly in the city of Sirte, a former IS stronghold from which the militants were removed by Libya's military earlier this year.