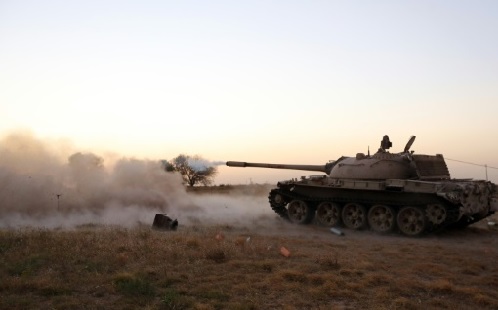 Iraqi security forces and paramilitary units launched a dawn assault Tuesday against one of the Daesh group's last bastions in the vast western province of Anbar bordering Syria.
The Joint Operations Command, which is co-ordinating Iraqi security forces battling Daesh, said an offensive had begun to retake the town of Anna and the nearby village of Al Rayhanna.
"Infantry units and armour backed by the Hashed Al Shaabi began an offensive to liberate Anna and Al Rayhanna from Daesh terrorists," JOC head General Abdelamir Yarallah said in a statement.
A general in the area said the operation was "developing along three axes" involving the army, police and the Hashed al-Shaabi, a paramilitary force composed largely of Iran-trained Shiite militias.
The operation was supported by Iraqi army helicopters and warplanes from the US-led coalition battling DAesh in Iraq and Syria, the general said, speaking on condition of anonymity. The head of Anna's municipal council, Abdel Karim Al Ani, confirmed the start of the offensive and said security forces had opened a road out of the town to allow civilians to flee.
Anna, about 100 kilometres west of the border with Syria, is one of three towns in Anbar province under IS control.
After retaking the town, Iraqi forces are expected to next target Rawa to the northwest and finally Al Qaim, which is close to the border with the Syrian province of Deir Ezzor.