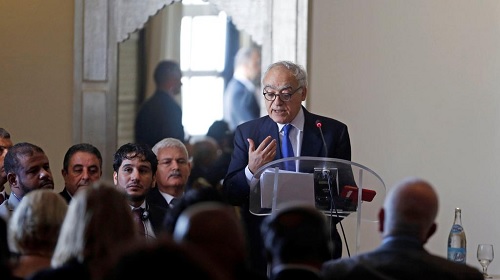 The United Nations opened talks with Libyan factions on Tuesday in the first stage of a new Action Plan which it hopes will bring peace to the country.
Delegates from rival parliaments in Tripoli and Tobruk met at a national conference in Tunis, capital of neighbouring Tunisia, to debate changes to a proposed transitional constitution, with UN envoy Ghassan Salame warning that time to find solutions is running short.
Mr Salame insists he is optimistic, saying in New York last week that his three-stage Action Plan is based on canvassing of a wide range of Libyans.
"I did not make up this plan, it is a rationalisation of what I heard from the Libyans. I criss-crossed Libya, listened to hundreds in the political class, and to average Libyans," Mr Salame said.
Mr Salame hopes his Action Plan will end Libya's multi-sided civil war and win agreement on elections within twelve months.
"The Action Plan's national conference is not a new institution," he said. "It's a moment for reconciliation to bring everyone together including those who did not participate, or didn't want to participate in the political process."
Libya has endured chaos ever since its 2011 revolution that saw the ousting of Muammar Qaddafi, and the chaos has seen the rise of ISIL and migrant-smuggling gangs. In some parts of the country order has broken down and militias, some created in the revolution, hold the power.
Mr Salame wants agreement on a united government that can restore basic services to the population and shepherd the country through to elections. "We have sleeping institutions that need to be awoken, divided institutions that need to be united, and hijacked institutions that need to be rebuilt," he said.
Tuesday's negotiations focused on how to change the Libya Political Agreement, a transitional constitution formulated, but never fully implemented, in 2015.
At the talks were delegates from Tripoli's High Council of State, a parliamentary body of the Government of National Accord, and those from the rival House of Representatives parliament in Tobruk, with both sides insisting progress must be made.