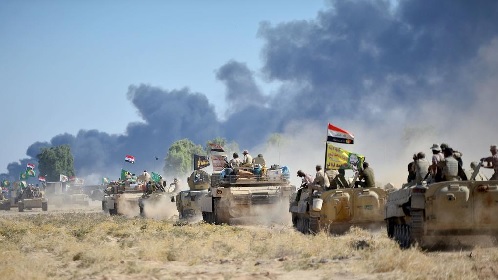 Iraqi forces on Wednesday made their final push into the northern town of Hawija, one of two enclaves in the country still held by ISIL extremists.
Hawija operation's commander, Lieutenant General Abdel Amir Yarallah said, the army, federal police and rapid response force had begun a major operation "to liberate the centre of Hawija and the neighbouring town of Riyadh."
Seven hours into the operation, Iraqi forces in armoured vehicles and under helicopter cover broke into the Askari and Nidaa neighbourhoods on the western side of the city.
The Sunni majority town, which been under the control of ISIL since 2014, is approximately 55 kilometres west of the city of Kirkuk.
Not only is Kirkuk province facing a security threat from ISIL, but it is also one of the territories claimed by both the central Iraqi government in Baghdad and the Kurdistan Regional Government.
The Hawija operation is being carried out by US-backed Iraqi troops and Shiite militias also known as "Hashd Al Shaaby".
Since August, Iraqi forces have recaptured all territory previously controlled by the extremists except for Hawija — considered ISIL's main Iraqi bastion since the loss of Mosul to government forces in July — and three other pockets of territory near the border with Syria.
Mohamed Hineidi, an expert on the Levant based in Abu Dhabi, predicted that the battle for Hawija would be both challenging and lengthy.