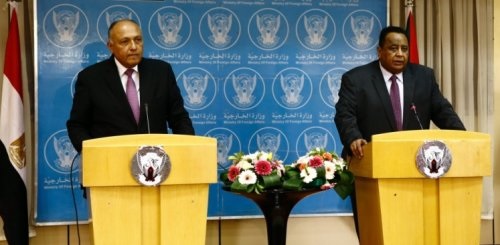 A delegation from the Egyptian Council for Foreign Affairs (ECFA) including four senior ambassadors will start a four-day visit to Khartoum on Monday to set up a working group to draft a paper on Sudanese-Egyptian relations.
Member of the Sudanese Council for Foreign Affairs Ali Youssef told the official news agency SUNA that the visit of the Egyptian delegation comes in implementation of the directives of the Ministers of Foreign Affairs of the two countries and the consultation program between the two councils.
He pointed out that the visit aims to form a working group to draft a paper on the Sudanese-Egyptian relations within the guidelines of the strategic partnership document signed by the two presidents in October 2016.
According to Youssef, the Egyptian delegation will meet with the Foreign Minister Ibrahim Ghandour and the Foreign Ministry Under-Secretary Abdel-Ghani al-Nai'm as well as the members of the Sudanese Council for Foreign Affairs and the secretary general of the Sudanese International People's Friendship Council.
Tensions between Khartoum and Cairo have escalated following the former's decision to restrict imports of Egyptian farming products which was reciprocated by Cairo's decision to raise residency fees for Sudanese living in Egypt.
The deterioration of bilateral relations between the two countries goes back to the attempt to assassinate President Hosni Mubarak in June 1995 followed by the deployment of Egyptian troops in the disputed area of Halayeb triangle.
Since then, Khartoum has been moving to improve its ties with the eastern and western neighbours, instead of its strategic ties with Egypt.