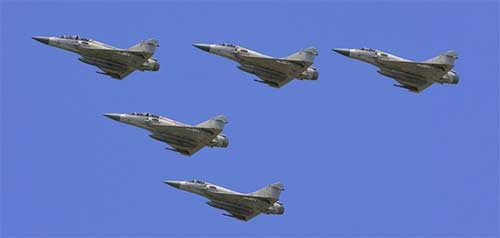 Iraq's military Sunday paraded in Baghdad Green Zone to celebrate the full liberation of Iraqi lands from the Islamic State (IS) group.
The parade was held in the morning at the Celebrations Square in the heavily fortified Green Zone, which houses the main government offices and foreign embassies, and was attended by the Iraqi Prime Minister Haider al-Abadi, who is the Commander-in-Chief of Iraqi forces said.
Top Iraqi officers from the ministries of defense and interior also attended the parade, he said.
Iraqi warplanes and helicopters flew over the Celebrations Square as Iraqi tanks, armored vehicle, artillery, infantry and other forces marched in the square, he added.
On Saturday night, Abadi officially declared full liberation of Iraq from the extremist IS group after the security forces recaptured all the areas once seized by the extremist group.
"I announce to the Iraqi people and all the world that our forces have reached the last redoubts of Daesh (IS) and have raised the Iraqi flag over areas of western Anbar (province) which was the last occupied land by IS," Abadi said in a televised speech.
However, Abadi warned Iraqis to "remain alert and ready to confront any terrorist attempt that may target our people and our land," despite the announcement of victory over IS.
Earlier on Saturday, Lt. Gen. Abdul Amir Rasheed Yarallah, commander of western Iraq operations, announced the liberation of all Iraqi lands from IS militants after seizing the whole border areas and desert in western Iraq.
"The liberation of all Iraqi lands from the IS has been completed and our heroic forces have tightened their grab on the Iraqi-Syrian border," Yarallah said.