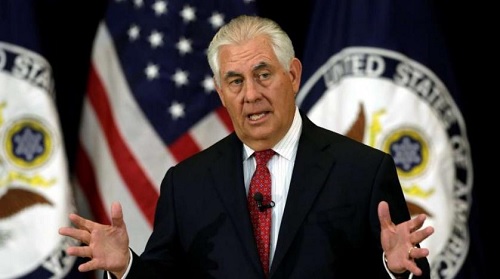 US Secretary of State Rex Tillerson told KRG Prime Minister Nechirvan Barzani that the US welcomes signs of development in talks between Erbil and Baghdad.
He said that the US pays attention to its relations with the Kurdistan Region, according to Kurdistan Regional Government's (KRG) website.
Tillerson expressed happiness over what he called constructive meetings between the Erbil and Baghdad delegations in attempts to resolve their outstanding issues, reported Rudaw in a statement following Tillerson's phone call with Barzani on Monday.
He described the Iraqi constitution as a means for resolving the issues and expressed his readiness to support dialogue between Erbil and Baghdad.
He also stressed continued coordination between the Kurdistan Region, Baghdad, and the United States to confront any threat in the post-ISIS phase and possible re-emergence of violence.
In his phone call with Barzani, Tillerson reiterated US support behind democratic processes and elections in Iraq and the Kurdistan Region and hoped for the KRG to overcome its crippling economic crisis.
For his part, Barzani thanked Tillerson for supporting the KRG and cautioned that there are still threatening elements that again could unleash violence.
He deemed it important for the three sides — the US, Iraq and the KRG — to work together on a current and future joint mechanism.