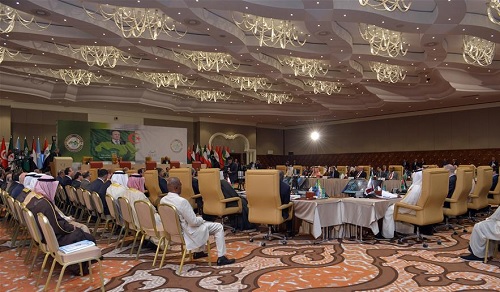 The 35th session of the Council of Arab Ministers of the Interior kicked off in Algiers on Wednesday, as participants are tackling security threats and the fight against crimes, in addition to illegal migration.
Arab interior ministers are focusing on cooperation to deal with challenges threatening the region, including terrorism, trans-border criminality, violent extremism, illegal migration, as well as cyber-crime and cyber-terrorism.
On the eve of the session, Algeria's Secretary-General Salaheddine Dahmoun said the current session witnesses the participation of 20 Arab countries represented by ministers of interior, while Qatar preferred to participate with its Prime Minister Sheikh Abdullah bin Nasser bin Khalifa al-Thani.
He stressed that Algeria is keen to contribute to enhancing the effectiveness of the Council's efforts to combat all forms of threats affecting the Arab world and its regional orbit and to achieve greater joint security cooperation and coordination.
CMAI was established in 1982, and meant to develop and consolidate inter-Arab cooperation and combining efforts in the fight of emerging threats.