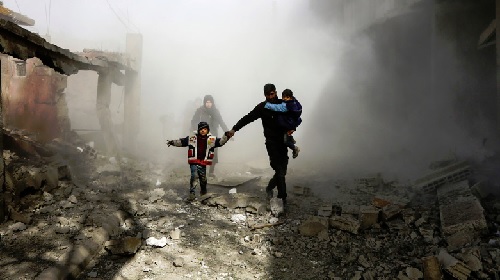 US State Department Spokesperson Heather Nauert affirmed on Thursday that "it is now twelve days" since a Damascus suburb was attacked with chemical weapons, while inspectors from the Organization for the Prevention of Chemical Weapons (OPCW) have yet to be allowed to enter the site although they have been waiting in Syria since Saturday.
Nauert explained, "We have credible information that indicates that Russian officials are working with the Syrian regime to deny and to delay these inspectors from gaining access to Douma."
"We believe it is an effort to conduct their own staged investigations," she charged, adding, "Russian officials have worked with the Syrian regime, we believe, to sanitize the locations of those suspected attacks and remove incriminating evidence of chemical weapons use."
She also charged that Syrians who spoke about the chemical attacks had been pressured by the regime "to change their stories."
On Wednesday, a team from the United Nations Department of Safety and Security (UNDSS) went to two sites that the OPCW inspectors intended to visit. At one of the locations, the UNDSS team found a large crowd and decided to withdraw. At the second site, the team encountered small arms fire and an IED that exploded.
A decision was made not to send an OPCW team to the affected areas until their safety could be assured.
Russia claims that Syria did not carry out a chemical attack, and if there was such an attack, it was the work of rebels as opposed to the regime of Bashar al-Assad.