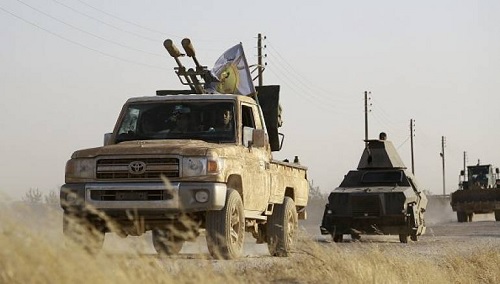 The U.S.-backed Syrian forces on Saturday took full control of a desert territory at the Iraqi border in northeastern Syria, local activists said Saturday.
The border line with Iraq and Deir Ezzor desert are under the control of the Syrian Democratic Forces, such a gain comes after weeks of major military campaign backed by the US and France.
Daesh lost most of its territory in Syria, but it still control some remote desert areas at the eastern bank of Euphrates River.
The SDF has been the main partner of the U.S.-led coalition against Islamic State in Syria, helping drive the jihadists out of swathes of northern and eastern Syria last year.
In relevant development, Human Rights Watch said Thursday in new report that the Syrian Democratic Council, a civilian authority operating in areas retaken from ISIS, and the Kurdish Autonomous Administration have confiscated residents' identification documents and arbitrarily prevented them from leaving. Camp confinement has increased vulnerability to exploitation, separated families, and restricted their health care access. Both authorities are constituted primarily from the Democratic Union Party (PYD).