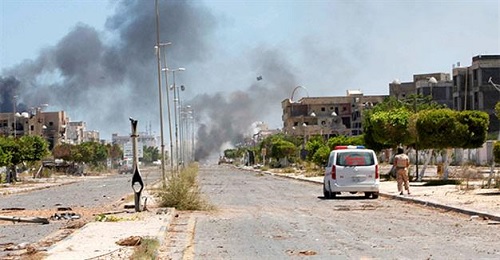 Clashes raged on Monday on the outskirts of Libya's capital Tripoli trapping residents indoors and hampering rescue efforts, as the UN called for talks after more than a week of deadly violence.
Fighting since August 27 between rival militias in the southern suburbs has killed at least 47 people and wounded 129 others, most of them civilians, according to an updated toll put out by the health ministry on Sunday night.
Following a failed ceasefire on Friday, the UN mission to Libya (UNSMIL) invited the "various Libyan parties" to Tuesday talks for an "urgent dialogue on the current security situation in Tripoli".
UNSMIL did not give further information on the guest list, but analysts said the chaos of changing alliances on the ground made it difficult to predict who would be at the table.
"The situation is too fluid and the alliances are still volatile and changing," said Jalel Harchaoui, a Libya expert at the University of Paris 8.
The Libyan capital has been at the centre of a battle for influence between armed groups since the ouster and killing of dictator Muammar Gaddafi in 2011.
Libya's UN-backed Government of National Unity (GNA) on Sunday declared a state of emergency in Tripoli and its surroundings, as the violence cast doubt on general elections set for the end of the year.
The clashes initially pitted GNA-linked groups in the capital against the so-called 7th Brigade, a militia from the town of Tarhuna southeast of Tripoli the GNA says it presented with orders in April to disband.
In statements and videos, the 7th Brigade has claimed to be the true "army" and said it is carrying out an "operation to liberate Tripoli" from militias.