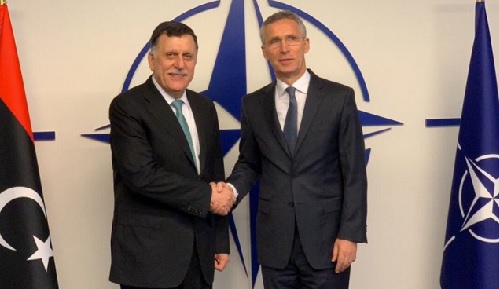 NATO is prepared to help Libya rebuild its security and military institutions, the alliance's Secretary General, Jens Stoltenberg, said in a meeting Tuesday with the Head of the Presidential Council (PC) Fayez Al-Sirraj in Brussels.
According to the PC's media office, Stoltenberg reiterated NATO's support for the PC and the UNSMIL in their continuous efforts to reach a political solution to the crisis of the country and to rebuild the military and security institutions.
"Coordination between Libya's security and military institutions and NATO is very vital, thus using the alliance's expertise in border management and fighting terrorism." Al-Sirraj remarked.
Earlier on Tuesday, Al-Sirraj met with the European Union (EU) High Representative for Foreign Affairs, Federica Mogherini, to discuss security, illegal immigration, economic and other issues of mutual concern, the PC's media office reported.
Al-Sirraj arrived in Brussels Monday evening after leaving Jordan, where he met with King Abdullah II.