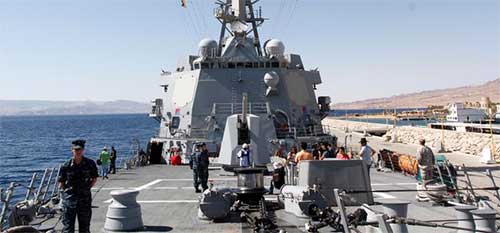 Amphibious warship USS Fort McHenry (LSD-43) pulled into Romanian port Constanta on Monday, in the first Black Sea visit by a U.S. Navy ship since Russian forces seized a trio of Ukrainian naval vessels in the region.
The Fort McHenryis the first American warship to enter the Black Sea since Russia seized three Ukrainian vessels in the Kerch Strait late November.
"During the layover, the leadership of the Command Fleet will receive the visit of the USS Fort McHenry ship representatives and a detachment of the 307 Infantry Marine Regiment will carry out a fact-finding visit on board the U.S. ship," announced the SMFN.
The Whidbey Island-class warship Fort McHenry is embarking the 22nd Marine Expeditionary Unit.
The Fort McHenry will conduct a series of joint training activities with Romania's King Ferdinand frigate, upon leaving Constanta on Thursday, in Romania's territorial waters and the international waters of the Black Sea.
The last U.S. warship to operate in the Black Sea was the Spain-based guided-missile destroyer Carney that on Aug. 27 ended its third visit there in 2018.