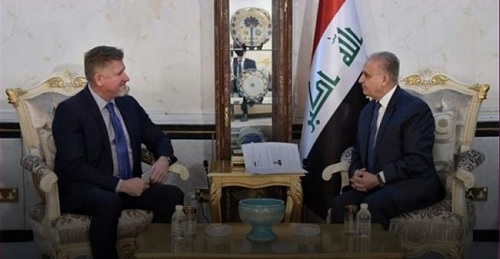 Iraqi Minister of Foreign Affairs Mohammed al-Hakim has reiterated his country's keenness on maintaining relations with the North Atlantic Treaty Organization (NATO) over the coming period.
The top Iraqi diplomat made the remarks Sunday during a meeting with NATO Assistant Secretary General John Manza at the ministry's headquarters in Baghdad, his media office said in a statement.
Al-Hakim praised the role played by NATO forces in support of Iraq during the fight against Islamic State militants.
He also expressed pleasure at the resumption of NATO training courses in Iraq, which he said contribute to the reinforcement of the Iraqi troops' combat skills.
Manza, meanwhile, extended thanks to the Iraqi Foreign Ministry for the services it provides for NATO forces to complete their military mission in the country.