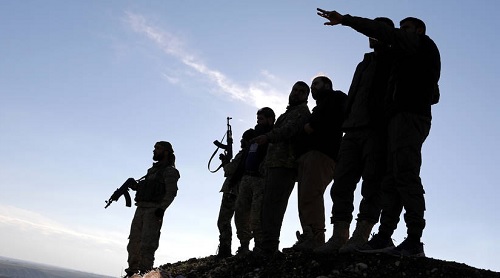 Despite its initial pleasure upon hearing of the US withdrawal from Syria, Turkey seems to be facing difficulties in achieving its goals in its southern neighbor. Recent back-and-forth statements between the United States and Ankara have pointed to a couple of disagreements over the Syria dossier.
Turkey is engaging in a flurry of high-level contacts with the United States and Russia to negotiate the future of northern Syria and east of the Euphrates River following Donald Trump's decision to pull US forces out of Syria.
Ankara wants to establish a strong military presence in the region to fight the People's Protection Units (YPG), which is lodged there with US backing.
Turkey considers the Kurdish YPG to be a terrorist organization and has vowed to eliminate it, even if Washington refuses to sever ties with the group.
The latest statements out of Washington and Moscow, however, have highlighted again the difficulties Ankara faces in trying to achieve its aim.
Ankara is trying now to gauge the significance of Washington's announcement that it will leave behind a contingent of up to 400 troops in Syria, after the bulk of US forces are withdrawn from that country in line with President Trump's December decision.
Turkey's position regarding the region remains unchanged and leaves little room for a compromise.
It wants Washington to closely coordinate its withdrawal from Syria with the Turkish military, and for this withdrawal to be conducted in an orderly way, so that Turkish forces can take over bases left behind by the Americans.
Turkish officials are concerned that a hasty and disorderly pullout by the United States will result in an authority vacuum east of the Euphrates River that terrorist groups could exploit.
Furthermore, Ankara wants a security zone in Syria 30-40 kilometers deep, and controlled exclusively by the Turkish army and its Free Syrian Army proxies, and definitely not by the United States or European members of the US-led coalition in Syria.
Turkey does not want a Russian or a Syrian regime presence in this zone either. Apart from securing itself against the YPG, Turkey plans to settle in the zone some of the 4 million Syrians who have taken refuge in Turkey.
Ankara's talks with Washington and Moscow have failed to produce any tangible results on these issues so far, but the sides appear to be keen to keep talking.
President Recep Tayyip Erdogan held a phone conversation with Trump Feb. 21. A day later Turkey's defense minister, Hulusi Akar, was in Washington for talks with acting Defense Secretary Patrick Shanahan.
In addition to this, US officials, who are part of a "task force" set up during Foreign Minister Mevlut Cavusoglu's visit to Washington earlier this month, will be in Ankara this week for talks that concentrate on the details of the US withdrawal.
Meanwhile, Russian Foreign Minister Sergey Lavrov told Vietnam Television, China's CCTV and Phoenix TV on Feb. 4 that negotiations with Turkey on northern Syria were continuing.
Although he was trying to present the Turkish-Russian dialogue in a positive light, his remarks were problematic for Ankara on a number of counts.
Lavrov's suggestion, for example, that Syria's border with Turkey could be patrolled by Russian military police to ensure Turkish security needs is a non-starter for Ankara.
Moscow remains opposed to any foreign military presence in Syria that is not sanctioned by the Syrian regime. Lavrov underlined this point by indicating that Russia and Iran were in Syria "on the invitation of the country's legitimate government."
Tellingly, he went on to point out that the Bashar al-Assad regime was opposed to any Turkish military presence in Syria.
Moscow also wants the Syrian regime to gain full control of northern Syria after the US withdrawal. This includes territories captured by Turkey in its operations against the Islamic State and the YPG.
Turkey, for its part, does not want to see regime forces east of the Euphrates River. Cavusoglu underlined this point in a meeting with editors from the Demiroren Media Group in January.
"The entry of the regime into these lands will not eliminate our security concerns," Cavusoglu said, indicating that the regime and the YPG could cooperate against Turkey.
Lavrov's comments regarding the YPG also grated on Turkish nerves. "We do not have a common vision of who among the Kurds should be regarded as terrorists," he said.
"We understand [Turkey's] concerns, but it is still necessary to separate the wheat from chaff to see which one of the Kurdish groups is indeed an extremist one and poses a threat to the security of the Turkish Republic," Lavrov added.
The US decision to leave a contingent of troops in Syria as "peacekeepers" appears at first glance to be a fresh setback for Ankara. Nevertheless, some analysts argue that this could turn out to be a blessing in disguise, since it is not clear yet who will fill the "vacuum" created by a US departure from Syria.
During an interview with the Turkish NTV channel on Feb. 26, Erdogan appeared to downplay the significance of Washington's decision to leave a small contingent of troops in Syria. He said that the presence of these troops would be "symbolic."
Ankara is nevertheless aware that various branches of the US administration, and the US Congress, have been working hard to get Trump to reverse his decision to pull troops out of Syria.
Turkish officials are concerned that even a partial reversal by Trump of his decision to withdraw all forces from Syria could turn out to be a prelude to a long-term US presence in that country.
The Turkish side is also taking note of American press reports citing administration sources that indicate that the presence of a limited number of US troops in Syria will be more than "symbolic."
These reports indicate that this military presence, limited as it might be, mean that the US military will continue to control the airspace in northeastern Syria, and also continue with its logistics operations there.
Retired Brig. Gen. Naim Baburoglu, a prominent commentator on political and military matters, believes the United States will not leave Syria or the Middle East anytime soon until, that is, it has fully achieved its strategic targets.
Baburoglu argued, in his column for the news portal Gercek Gundem, that the United States would only leave the region "after guaranteeing the security of Israel, guaranteeing the security of the YPG, eliminating the Iranian presence in Syria, destroying Syria's unity and securing unification between the Kurds of northern Iraq and northern Syria."
Meanwhile, differences remain between Ankara and Washington over who will run the security zone in northern Syria, the establishment of which the United States has agreed to in principle.
Washington wants this to be controlled by an international force comprised of countries that are already part of the US-led coalition in Syria. It has reportedly told Turkey that it could also participate in this force, seeing as it is technically a member of this coalition.
This, however, is also a non-starter for Ankara. Turkish official sources have been telling the press that such a proposal can only be designed to prevent Turkey from deploying a strong military presence in the region.
Saban Kardas, from the Ankara-based Center for Middle Eastern Studies, spelled out the underlying reason for Turkey's concerns.
"Agreeing to a safe zone on Washington's terms is likely to set into motion a path-dependent process that may eventually replicate the experience of an embryonic Kurdish state in northern Iraq, something that awakens fears in Ankara," Kardas wrote for the German Marshall Fund of the United States.
Pointing to large gap between the Turkish and American positions, Kardas added that Turkey and the United States "will have to engage in competitive bargaining in a zero-sum setting and make major concessions and trade-offs" if they are to get anywhere.
Turkey, however, is in no mood for compromise. In his public addresses, Erdogan continues to use a threatening tone. He says that Turkey will rid itself of the YPG peril in northern Syria on its own, if necessary, adding that the Turkish military has drawn contingency plans to achieve this.
Whether Ankara is prepared to escalate the situation in this way remains an open question, given that it will face opposition from Washington and Moscow, not to mention Iran and key Arab states, if it goes ahead.
Many believe Erdogan is only playing to a domestic gallery at a time when crucial local elections are just around the corner.
The bottom line, however, is that Turkey is not likely to climb down with regard to its demands in northern Syria, even if it is rowing against strong currents as it tries to achieve its aims.