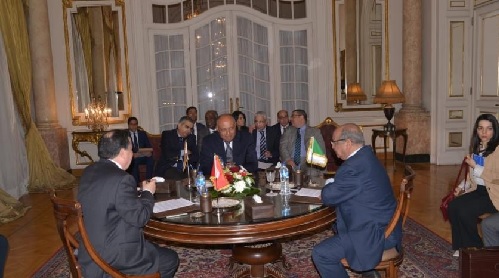 The foreign ministers of Libya's neighbors stressed on Tuesday that the political solution remains the only way to resolve the country's crisis.
Egyptian Foreign Minister Sameh Shoukry hosted in Cairo Algeria's Abdelkader Messahel and Tunisia's Khemais Jhinaoui to discuss the developments in Libya.
They voiced their support for UN envoy Ghassan Salame's mission to achieve rapprochement between rival Libyan powers in order to be able to hold a national conference as soon as possible. They also rejected foreign meddling in Libyan affairs.
They noted that militias in the capital Tripoli were impeding efforts to resolve the crisis, while accusing sides, which they did not name, of constantly funding these groups.
Shoukri called on the Libyans to "save their country," adding that its neighbors are keen on having Tripoli regain its standing in the Arab world.
Egypt supports the unification of military and security forces, he stated.
Jhinaoui said that the solution lies in the hands of the Libyans themselves, calling on them to save their country.
"We wanted a united Libya," he declared. A national conference, he continued, would help end the transitional phase and pave the way for elections in the country, a demand that has been repeatedly made by the UN mission.
"The Libyans must overcome their differences and reach and inter-Libyan solution," he urged.
Messahel underlined the importance of the political solution, rejecting foreign interference in Libyan affairs. He added that Libya's security would also ensure the security of its neighbors.