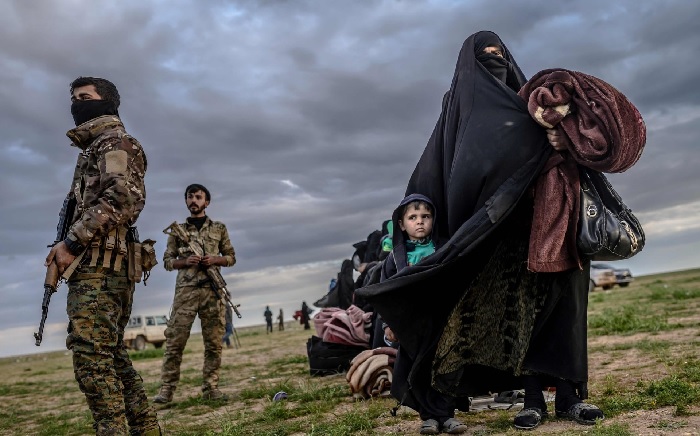 Iraq has agreed to take back up to 20,000 of its nationals who were captured leaving Isil areas in Syria, as local authorities warn they are struggling with the burden of foreign jihadists.
The number includes women and children as well as a small number of fighters, according to officials from the Red Cross.
Most are being held in al-Hol camp in Kurdish-held northern Syria, where authorities are scrabbling to accommodate the 65,000 who recently fled Islamic State of Iraq and the Levant's final stronghold of Baghuz.
More than 100 people have died in the camps, or on their way to it, including the three-week old son of 19-year-old runaway schoolgirl from Bethnal Green Shamima Begum.
"Among the people who reached al-Hol camp you have a significant number of people who are of Iraqi origin. Figures are not official but probably we are talking about 20,000, including women and children," Fabrizio Carboni, ICRC regional director for the Middle East, told Reuters.
"The Iraqi government has expressed its will to bring those people back, but it's obviously a challenging situation. Those people are considered as a security threat, so it means that they will have to go through a screening process," he added.
There was no official date to his knowledge for the huge transfer, Mr Carboni said: "But according to our understanding, it's a matter of weeks or months."
Western-backed Syrian Democratic Forces (SDF) are holding more than 4,000 non-Iraqi foreign men and women with links to Isil, as well as their children.
The SDF has warned it does not have the resources to hold them for much longer and has encouraged allies to take responsibility.
Britain and most other European countries have so far refused to repatriate their citizens, saying they pose a security risk.
Iraq has shown little leniency to Isil suspects at trial.
The Telegraph has attended hearings both in Baghdad and Mosul, where hundreds of detainees have been handed lengthy sentences and in some cases even the death penalty.
Some of the foreign women were given 20-year sentences simply for following their husbands to the so-called caliphate.
Baghdad's investigative court is currently hearing the cases of 14 French male suspects who were handed over by to Iraqi authorities by the SDF.
A report released last week by Human Rights Watch also revealed that Iraq was holding more than 1,500 children in prisons on suspicion of links to Isil. More than 150 have been charged, often based on confessions obtained through torture, the group said.
The battle for Baghuz, meanwhile, looks set to continue for days more as the SDF makes incremental advances between long pauses to allow women and children to leave the pocket and men to lay down their arms.
"We could take it in one night. But the strategy is to press Isil to let their civilians out, not to storm the place," said Behzat Cudi, unit commander. "So we attack and give them a chance to surrender."
SDF troops launched a fighting reconnaissance raid into the pocket on Sunday night and advanced to take and hold the same ground overnight on Tuesday.
Fighting is now taking place at close quarters among tents and fox holes often occupied by women and children as well as Isil fighters and suicide bombers. The commander said it is often impossible to use the coalition air support that has given the SDF the decisive advantage in previous battles.
One commander told the Telegraph last week that the remaining area could conceal 2,000 Isil fighters and more civilians, though with a reported 2,000 mostly fighters surrendering on Tuesday it was unclear just how many were left.
The SDF and coalition have throughout the battle for Baghouz grossly underestimated the number left in the pocket.