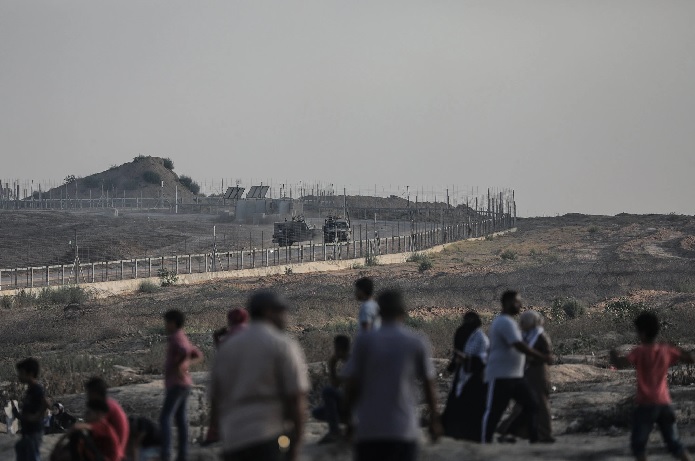 Israeli forces shot and killed four Palestinian militants near the Gaza border fence after one tossed a hand grenade at Israeli troops on Saturday, the military said.
The men were armed with assault rifles, anti-tank missiles and other grenades, the Israeli military said on Twitter. The Israeli military posted images of the weapons it said the men had been carrying.
It said, "These are the weapons possessed by the terrorists who attempted to infiltrate into Israel from Gaza last night."
At a news briefing, an Israeli army spokesman, Lt. Col. Jonathan Conricus, said that it had been a "very significant attempt to attack Israel."
He said Israeli soldiers had opened fire when the militants tried to climb the fence, and that the militants had returned fire before being killed. No Israelis soldiers were hurt, he added.
A spokesman for Hamas, the Islamist group that governs Gaza, said on Saturday that the Palestinian militants had been engaging in "an individual act," stressing that the operation had not been planned by Hamas.
The spokesman, Abdel-Latif al-Qanou, said the attempted infiltration had been carried out by "angry youths" who were reacting to Israel's 12-year blockade of Gaza.
"The occupation is responsible for the state of anger and pressure inflicted on our people due to the continued siege on Gaza," he said in a statement.
Earlier, Colonel Conricus had said that Israel held the Hamas authorities "responsible and accountable for any acts of violence emanating from the Gaza Strip," regardless of whether Hamas had ordered the attack.
Hamas has fought three wars with Israel over the past decade. Israel pulled its troops and settlers from the territory in 2005 but keeps the enclave under a blockade, citing security concerns. Tensions along the border are high, with frequent fatalities.
Israel and Hamas agreed on an informal cease-fire in May, after a particularly intense burst of violence, although the militant group's leader, Ismail Haniya, has accused Israel of failing to meet commitments under the deal.
Hamas stages weekly protests at the border but had canceled this week's, according to The Associated Press, ahead of the Muslim holiday of Ed al-Adha, which falls on Monday.
Earlier in the week, a yeshiva student who was studying to become a soldier, Pvt. Dvir Sorek, was found stabbed to death in the West Bank, and the Israeli Army was hunting for the killer. The army was treating the killing as a terrorist attack.