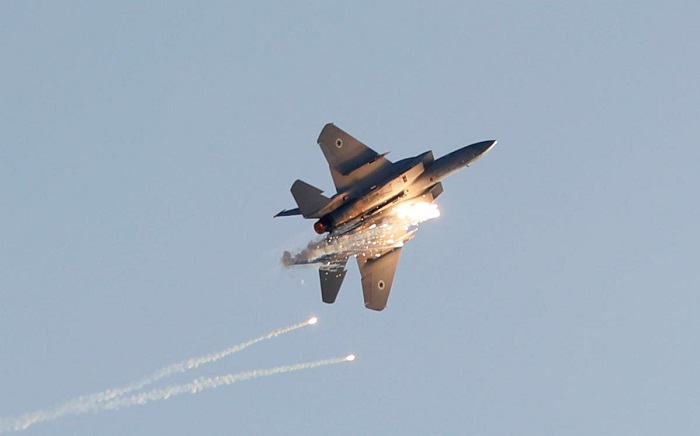 Israel has reportedly expanded its operations against Iran in the Middle East. In July, Israeli and foreign media attributed airstrikes on Iranian targets near Baghdad to Israel. Last week, U.S. officials confirmed that Israel was responsible for the attacks, which mark the first such air raids on Iraq since 1981, when Tel Aviv destroyed Saddam Hussein's Osirak nuclear reactor. In an ironic twist of history, Israel is now trying to reverse the clandestine alliance it once shared with Iran that depended on a common concern over the military buildup in Hussein's Iraq –– and which led Tehran to establish a nuclear research program in numerous underground facilities in an attempt to avoid preemptive strikes. Indeed, Baghdad's silence in the wake of the alleged attacks seemingly reveals a tacit acceptance –– if not endorsement –– of Tel Aviv's military actions targeting Shi'a militias last month. The presumed Israeli-Iraqi rapprochement, however, faces numerous socio-political challenges beyond Iraqi wariness of renewed sectarian strife. Increased diplomatic and economic relations between the Palestinian Authority (PA) and the recently-installed Iraqi government, for instance, highlight Baghdad's support for the Palestinian cause while aiding the Palestinian leadership in reducing its political dependency on Western powers, including by acting as a gateway to its pro-Palestinian neighbor, Iran.
Israel's anti-Iran strategy
Israel's anti-Iran strategy has become increasingly overt in recent months. Since the beginning of the civil war in Syria, Israel has resorted to striking Iranian positions to prevent arms transfers to regional proxies, such as Hezbollah in Lebanon and Liwa Abu Fadl al-Abbas (LAFA) in Syria. Last year, in a speech to the United Nations General Assembly, Israeli Prime Minister Benjamin Netanyahu forewarned of expanded Israeli actions against Iran across the region, stating, "Israel will do whatever it must do to defend itself against Iran's aggression. We will continue to act against you in Syria. We will act against you in Lebanon. We will act against you in Iraq. We will act against you whenever and wherever we must act to defend our state and defend our people." In an interview with Channel 9 in late August, Netanyahu implied responsibility for the attacks on Iran-backed militias, stating, "I don't give Iran immunity anywhere […] we're acting in very many theaters against a state that seeks to annihilate us."
Recent Israeli defense reports, in addition to statements by officials, demonstrate that Iranian activities in Iraq –– a predominantly Shi'a country –– are considered a direct national security threat to Tel Aviv. The country's intelligence assessment for 2019 states that Iran continues to vie to "create regional hegemony for itself via alliances spreading from Iran through Iraq and Syria to Lebanon." Moreover, the assessment notes that due to Iran's difficulties in entrenching itself militarily in Syria, it has been forced to "realize that the domestic and international situation in Iraq created better opportunities for it to prepare its regional plans." Part of this recalculation has involved deploying long-range ballistic missile systems to Iranian proxies in Iraq, where they are ostensibly harder for Israel to reach. According to the Israel Defense Forces-affiliated military studies center, Dado, Iraqi Shi'i militias, known as the Popular Mobilization Forces, form an additional threat to Tel Aviv due to their perceived willingness to fight against Israel in the case of war.
Reports of Iranian missiles being transferred to Iraqi militias are not new. Reuters reported that Iran had been moving missiles into Iraq and had restarted operations at missile factories in al-Zafaraniya, east of Baghdad, and Jurf al-Sakhar, near Karbala, in 2016. A coordinated U.S.-Israeli response to the threat of Iran-run militias, however, materialized when U.S. Secretary of State Mike Pompeo –– using Israeli intelligence photographs –– instructed Iraq to halt Iranian missile imports and remove any existing Iranian missiles. More recently, during the trilateral meeting between the U.S., Israel, and Russia in June, both Tel Aviv and Washington demanded that Moscow ensure the withdrawal of Iranian forces from Iraq, in addition to Lebanon and Syria.
An Iraqi-Israeli rapprochement?
Pundits have pointed to Iraq's silence in the aftermath of the July air strikes as evidence of a closer relationship between Tel Aviv and Baghdad. According to European diplomats, Israeli officials have been conducting regular meetings with their Iraqi counterparts, including in Israel. In a July 6 seminar, Iraqi Ambassador to the U.S. Farid Yassin charted the reasons for increased relations between the countries, including the presence of an Iraqi community in Israel who "cherish their Iraqi characteristics and traditions." Nevertheless, beyond an Iraq-centered Facebook page headed by the Israeli Foreign Ministry and a visit by unnamed Iraqi journalists, there are few signs of an Iraqi-Israeli partnership –– let alone a coordinated policy –– on Iran. Indeed, in the aftermath of the July attacks attributed to Tel Aviv, some 80 members of Iraq's parliament urged the government to respond. Last week, Iraq also voiced strong opposition to a suggested Israeli role in the proposed U.S.-led coalition to secure maritime movement and fuel transportation in the Gulf.
Any overt rapprochement with Israel would also stand to be challenged by Baghdad's pro-Palestinian surge, as previously highlighted by MEI. Recent visits by the PA, including the new prime minister, Mohammad Shtayyeh, have mobilized economic and political support for the Palestinians. Their outreach has sought to leverage the leadership of Iraq's prime minister, Adel Abdul-Mahdi, who –– based on prior ties to the Palestine Liberation Organization –– is perceived to be a willing partner. This strategy has already borne fruit: In June the Iraqi prime minister announced a boycott of the Manama conference and rejected the U.S. Israeli-Palestinian peace plan, known as the "deal of the century."
Palestinian disintegration and regional integration
Shtayyeh has sought bilateral partnerships between Iraq and the PA as part of a calculated outreach plan. Beyond advancing agricultural and economic cooperation, last month's two-day visit by the prime minister centered on obtaining Iraqi oil at reduced prices. Faced with a lack of refineries in the Palestinian Territories, such an agreement would rely on a pact created between Iraq, Jordan, and Palestine earlier in July, which allows the PA to import oil through the Jordanian Petroleum Refinery in Zarqa.
The conclusion of bilateral agreements with Iraq stems from a policy advanced by the prime minister to strengthen the PA's regional relations and disengage further from Israel and its allies. During his visit to Iraq in July, the Palestinian prime minister informed reporters that his outreach to Baghdad was part of the PA's "strategy of achieving gradual disengagement from the colonial relationship imposed by the existence on the ground of the Israeli occupation, and to turn more toward the Arab countries to strengthen economic opportunities." At the same time, it is evident that the PA's desire to upend its own economic reliance on Israel is intended to withstand financial pressure from Israel and the United States. Currently, about 60 percent of the PA's imports come from Israel while 85 percent of Palestinians exports go to Israel; the PA estimates that about 131,000 Palestinians are employed inside Israel, producing 37 percent of the West Bank's GDP.
In October 2018, the Palestinian Central Council urged President Mahmoud Abbas to cease all security coordination with Israel and pursue economic decoupling "to continue the process of transition from the stage of Authority to the embodiment of the independence of a sovereign and independent state." The interrelation between the Palestinian and Israeli economies, however, will be difficult to undo, as became apparent earlier this year, when Israel decided to deduct the PA's tax revenue. According to a World Bank report published April 2019, the dispute over the deduction in tax revenue stood to deepen the "fiscal crisis" and "choke economic activity" in the West Bank.
Visits by PA leaders to Iraq indicate that the economic and political disengagement strategy pursued by the PA extends as well to Iran. During his July visit, the PA's de facto foreign minister, Nabil Shaath, embraced Iran's support for Palestine and conducted meetings with Iraqi Shi'a leaders, who enjoy close relations with Tehran, stating, "We seek to strengthen our relations with Tehran, and we don't consider it an enemy. The enemy is Israel." Palestinian Ambassador to Iraq Ahmad Akl has also held meetings with pro-Iranian groups in Iraq, including the paramilitary group Hezbollah al-Nujaba in March. The Palestinian cause, which has been a mainstay of Iranian rhetoric since the 1979 overthrow of the shah, continues to be a rallying cry under the leadership of President Hassan Rouhani. In May, the Iranian president sent a letter to leaders attending the summit of the Organization of Islamic Cooperation urging them to remain focused on the Palestinian cause.
In addition to its backing of the Lebanese-based Islamist party Hezbollah, Tehran has been a longtime financial supporter of Hamas, the Palestinian movement ruling the Gaza Strip. According to a recent report, Iran agreed to increase its funding to Hamas by almost $24 million a month in exchange for intelligence on Israeli missile stockpiles; last month the Israeli daily Haaretz revealed that Iran and Hamas agreed on opening a second front in the south in the event of a war in Israel's north. The PA, which has been engaged in a civil war with Hamas for over a decade, has accused Iran of "contributing to civil wars in the Arab world" and stoking inter-Palestinian division, including by offering "Palestinian factions weapons and money." In order to prove its commitment to the Palestinian cause, the PA has therefore called on Tehran "to deliver such support through the PA."
Beyond the intra-Palestinian rivalry, long-standing relations with regional Sunni powers –– including ongoing financial backing by Saudi Arabia –– will likely preclude an overt Iranian-PA relationship. Despite mounting tensions between Ramallah and Riyadh over the latter's dedication to the Palestinian cause, the PA has not turned its back on the kingdom. Rather, Shaath's accentuation of the PA's partiality in "Iranian-Arab differences" during his visit to Iraq reveals a penchant for the status quo. Any such equilibrium is not shared by his Israeli counterparts; in the absence of a repudiation by the U.S. administration, Tel Aviv stands to continue to act against Iran where it sees fit.