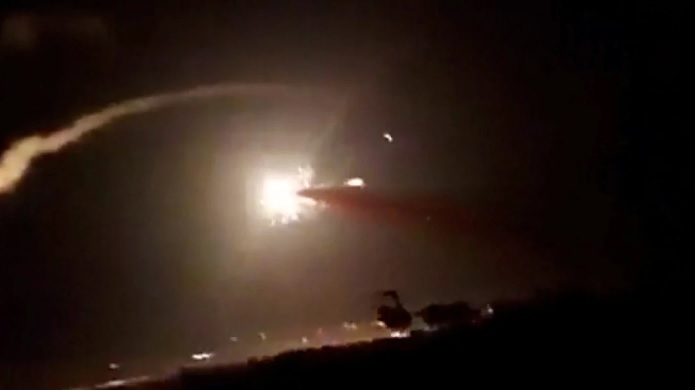 On Monday, the Israeli army said Shi'ite units led by Tehran's Quds Force attempted to fire several rockets Sunday overnight which failed to cross over to Israel.
Outlets affiliated with the Syrian opposition, which based their reports on those of the Syrian Observatory for Human Rights', said the UAVs attacked militias near Al Bukamal, close to the Syria-Iraq border.
Eighteen Iran-back militia members were killed in the strike, the British-based watchdog said on Monday. The Assad regime and Syrian state media didn't report the incident.
On Monday, the Israeli army said it identified a several launches from Syria that failed to cross over to Israel. They were carried out by Shi'te militias led by Iran's Quds Force from the outskirts of Damascus, the statement said, adding it considered the Assad regime responsible for any action that takes place under its sovereignty.
Later Sunday night, Lebanon's Hezbollah downed an Israeli unmanned aircraft outside the southern town of Ramyah, the movement's Al-Manar TV said early on Monday.
The Israeli drone is now in the hands of Hezbollah's fighters, the Iran-backed group added in a statement.
The Israel Defense Forces confirmed that the drone was downed in southern Lebanon during routine activity, ruling out intelligence leak.
Hezbollah and the Israeli army exchanged cross-border fire earlier this month after a drone attack last week in a Hezbollah-controlled Beirut suburb.
Hezbollah blamed that incident on Israel, raising fears of a wider regional conflict.
In August, Hezbollah leader Hassan Nasrallah said that his Shi'ite group would retaliate for drone attacks in Beirut that he has attributed to Israel "in every possible place along the border."
Last week Fox News reported that the Iranian military is building a new military base in Syria, citing multiple Western intelligence sources.
The report said that the new Iranian compound, dubbed Imam Ali and situated on the Syria-Iraq border where Monday's alleged strike took place, is being built from scratch by the Al-Quds forces and its construction was approved by top Tehran leaders.
The base is located 150 kilometers Southeast of Deir ez-Zur, near the Albukamal-Qaim crossing, a major supply route across the Middle East.
Series of strikes in Iraq have been recently attributed to Israel, some of them near the Syria-Iraq border and the Albukamal-Qaim crossing. The attacks targeted Iran-backed Shi'ite militias and their convoys tasked with smuggling weapons into Syria.
Israel didn't claim responsibility for the strikes, however Prime Minister Benjamin Netanyahu hinted at several occasions that he would not hesitate to expand the borders of fighting against Iran.
In August The New York Times reported that the U.S. administration, and the Pentagon are not pleased with the Israeli strikes in Iraq, fearing they would destabilize the Iraqi government and will enhance demands to remove 5,200 American troops who serve on Iraqi soil.