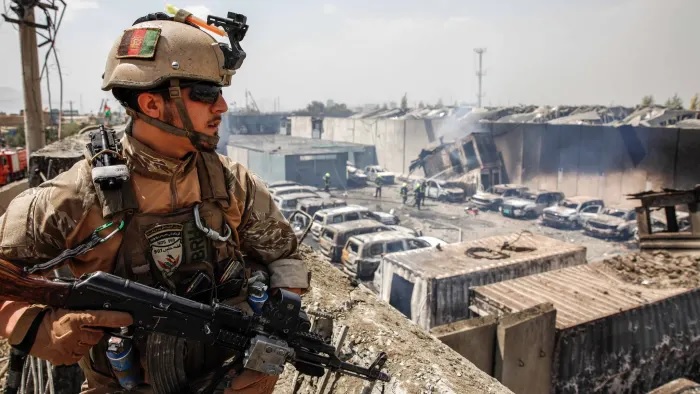 Minutes after the younger brother of Afghanistan's Taliban chief rose to lead Friday prayers at a Pakistan mosque last month, a bomb ripped through the building.
The brother of top leader Mullah Habatullah Akhundzada was one of five people killed in an attack police link to Isis's growing Afghanistan affiliate. The Islamist movement is locked in a fierce rivalry with the Taliban, whose influence straddles the border of the two countries.
A surge of Isis violence this year, including a horrific bombing at a Kabul wedding that killed 63 people in August, and the assault on Taliban leadership has revealed its increasing traction in war-ravaged Afghanistan.
Taliban hardliners angry about negotiations with the US over a troop withdrawal in exchange for counter-terrorism pledges have joined Isis in droves, said experts, raising fears of an Isis resurgence despite it being ousted from its last remnants of territory in Syria this year.
"When Isis started to claim attacks in Kabul, they showcased their power, arms and money," said Kabir Taneja, from the Observer Research Foundation in New Delhi. "You need a strong ecosystem to conduct attacks in what the Taliban consider their sacred ground."
As the Isis affiliate, known as Islamic State Khorasan (IS-K), expands from its stronghold in eastern Afghanistan, there is growing concern that it will create a safe haven for terrorists to plot international attacks, recreating the conditions that allowed al-Qaeda to organise the 9/11 attacks on New York and Washington 18 years ago.
Isis's rise comes even as the US and Taliban's negotiations to end what has become America's longest-running war appear to have faltered. US President Donald Trump wants troop numbers to be reduced before next year's US presidential election, but he called off a secret summit at Camp David with the Taliban and Afghan leadership. He later declared the talks dead, putting a question mark over the future of the deal.
The draft accord allowed for almost 5,000 US troops to leave Afghanistan in the next five months as part of a phased withdrawal, leaving 9,000 in return for Taliban counter-terrorism assurances.
Now as America and the Taliban work out their next move, Kabul is going ahead with presidential elections on September 28. A repeat of the 2014 polls, which was mired by accusations of fraud, could lead to further instability.
"It's an incredibly complex and fluid situation," said Jonathan Schroden, a military analyst at research organisation CNA. "There is still broad consensus across [Washington] DC and both parties that the only way to get troops out of Afghanistan and protect US interests is through some form of a negotiated settlement."
The threat of Isis looms large against this chaotic background, said Mr Schroden, adding that "the US is most concerned about IS-K as potentially the next big thing inside Isis".
The Afghan branch of Isis, which was formed in 2014 and is known for its ruthless violence and gory propaganda videos disseminated over social media, is estimated to have between 5,000 and 14,000 fighters in its ranks and is funded in part by wealthy Gulf donors, said Antonio Giustozzi, author of The Taliban at War.
"The Isis caliphate is gone, but it reorganised in Afghanistan after a period of disruption," said Mr Giustozzi. "Every month tens of members of the caliphate will reach Afghanistan and Pakistan from the Middle East."
New recruits also come from other jihadist groups in Afghanistan and Pakistan seeking security, said Mr Giustozzi. "Groups like al-Qaeda were relying on protection afforded by the Taliban, but with the Taliban [having been] negotiating peace with the US, they have doubts. Now Isis seems to be the only credible option to retain some safe haven in Afghanistan."
The Taliban has been shaken by the rapid ascent of Isis. One tribal leader from the Pakistan state of Balochistan, which borders Afghanistan and Iran, said the Taliban was "nervous", adding: "No one can exactly predict the strength of the Taliban in future."
In a series of interviews with security officials, local tribal leaders and Taliban sympathisers, the Financial Times was told of at least five suspected Isis attacks in Pakistan's Balochistan region on the Taliban between June and August.
A senior Balochistan government official said there were reports of meetings between Isis and al-Qaeda. "Al-Qaeda is down but not out. It still poses a significant risk. At the very least, they seem to be working towards launching a common front against the Taliban."