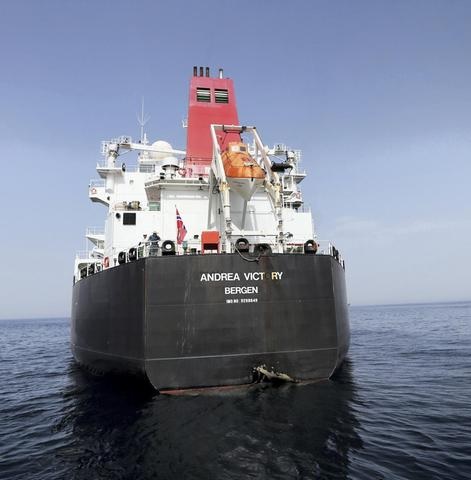 A western intelligence report showing Qatar knew of Iranian plans to attack four ships off the coast of the UAE could have "devastating" legal implications for Doha, an international relations expert said.
Ghanem Nuseibeh, founder of the London consultancy Cornerstone Global Associates, also told The National the intelligence report, which detailed how Qatar failed to warn its western allies of the May attack, showed Doha was "clearly not a trusted ally" of the West.
"The intelligence is very serious and has very serious implications for Qatar," Mr Nuseibeh said.
"It could not have come at a worse time for Qatar, after a serious of allegations of Qatar's associations with extremists around the world.
"If proven, those allegations could have devastating legal implications against Qatar on all political, economic and military levels."
The report, Fox News, detailed how the international wing of Iran's Islamic Revolutionary Guard Corps, the Quds Force, targeted two Saudi tankers, a Norwegian tanker and a UAE vessel near the port of Fujairah on May 12.
The attack came amid rising tension between the US and Iran over American sanctions seeking to block Iranian oil exports.
"Elements of civilian government of Iran, as well as the state of Qatar, were aware of the IRGC's activities," the report said.
French and British politicians have raised alarm over Qatar's failure to alert its western allies.
French Senator Nathalie Goulet said she would send the report on to France's security department and its minister of defence.
British member of parliament Ian Paisley Jr, now campaigning for re-election, said he intended to call on the UK government to investigate the claims in the report.
But former UK government minister Alan Duncan told The National that other politicians were unlikely to follow Mr Paisley's lead on Qatar and declined to comment further.
Sanam Vakil, a senior research fellow for the Mena Programme at Chatham House, said she was surprised by the report, adding that it was "strange" given that Qatar needed to appear at a distance from Iran.
"The Iranians are quite pragmatic and realise that Qatar can't overly embrace Iran," Ms Vakil said. "They understand that.
"The Qataris don't want to emerge from this crisis as part of the axis of resistance. Being seen to be too close to Iran is not in Qatar's interest either."
David Reaboi, adviser at the Security Studies Group think tank, said: "It's no surprise to see Qatar play both sides, the United States and Iran, but it's unusual for a state like this to be as ideological as Qatar.
A look back at the tanker attacks
Since 2017, Saudi Arabia, the UAE, Bahrain and Egypt have enforced a boycott on Qatar, calling on Doha to meet a list of 13 demands, including downgrading its relations with Iran.
The Strait of Hormuz, through which one sixth of the world's oil passes each year, has become a principal flash point for increased tensions between the West and Iran after the US withdrawal from the Iran nuclear deal in May 2018.
In the months since, it has been the site of commercial shipping seizures and Iranian attacks.