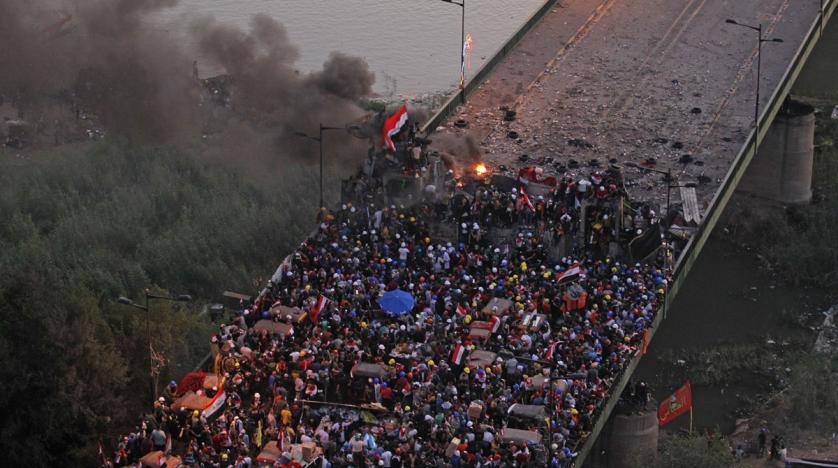 Lebanon's Hezbollah party has joined the search for a new Iraqi prime minister following the resignation of Adel Abdul Mahdi last week.
An Iraqi informed source revealed on Tuesday that Iran's Revolutionary Guards Quds Force commander Maj. Gen. Qasem Soleimani and Hezbollah official, responsible about the Iraqi file, Mohammad Kawtharany have joined negotiations to find Abdul Mahdi's replacement.
"Soleimani is in Baghdad to push for a particular candidate to succeed Abdel Mahdi," the source told Agence France Press, without providing details.
Kawtharany, who is Hezbollah's pointman on Iraq, "is also playing a large role in persuading Shiite and Sunni political forces on this," the source added.
Meanwhile, in New York, Special Representative of the Secretary-General, Jeanine Hennis-Plasschaert said Iraq is at a crossroads that cannot be resolved by "buying time with band-aid solutions and coercive measures."
In a briefing to the Security Council, she stressed that without full accountability and justice, "it will be nearly impossible to convince the people that political leaders are sincerely willing to engage in substantial."
She called on Iraqis to build a sovereign, stable, inclusive and prosperous country: "Now is the time to act. The great hopes of so many Iraqis call for bold, forward thinking," she said.
Hennis-Plasschaert emphasized that while talks about the Prime Minister-designate are ongoing between political leaders, there is urgency of current circumstances. "Political leaders do not have the luxury of time and must rise to the moment," she explained.
The UN official said "the harsh reality" is that live fire, tear gas and unlawful arrests and detentions persist, "as do abductions, threats and intimidation."
Noting that most protesters are peacefully seeking a better life, the Special Representative stressed that "it is the primary responsibility of the State to protect its people", spelling out that all forms of violence are intolerable and must not distract from "the rightful demands for reform".
Protests in Iraq erupted two months ago over rampant corruption, lack of jobs and poor public services. Despite the oil wealth of OPEC's second-biggest producer, one in five Iraqis lives in poverty and youth unemployment stands at one-quarter, the World Bank says.
Abdul Mahdi is the first premier to step down since Iraq installed a parliamentary system after Saddam Hussein's overthrow in 2003.