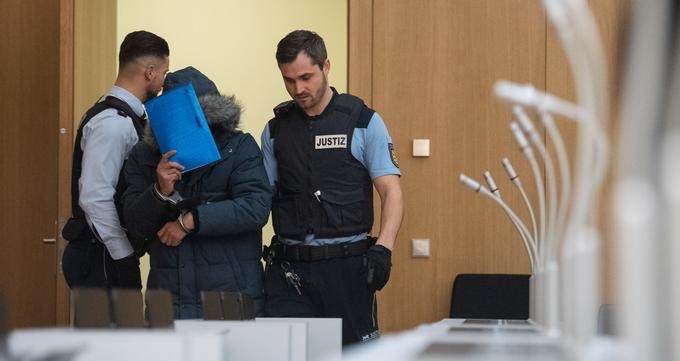 An ex-member of al-Qaida affiliate Nusra Front has been sentenced to life in prison for involvement in a 2013 massacre of regime forces. Prosecutors have sought to jail war criminals who arrived in Germany as refugees.
A German court on Monday sentenced a 31-year-old Syrian man to life in prison for double homicide and accessory to 17 counts of murder committed during his time as an Islamist militant.
The former Nusra Front jihadi was found guilty of killing two people and overseeing the murder of at least 17 others in northern Syria.
The victims were members of Syrian security forces and army personnel captured during the first years of the conflict. They were then executed at a dumping ground near the city of Tabka as part of a larger massacre in the area in 2013.
Three other defendants were also handed down prison sentences ranging from three to eight years. All four came to Germany as refugees.
Pursuing war criminals
German prosecutors have sought to jail militants and members of Syria's security forces who have committed war crimes and crimes against humanity.
In October, German federal prosecutors announced charges against two suspected former Syrian secret service officers. The charges included participating in mass rape, torture and crimes against humanity
Prosecutors also charged an Iraqi man and his German wife for genocide for chaining up a Yazidi girl and leaving the 5-year-old to die of thirst. Both are believed to be members of the "Islamic State."
Brutal conflict
In 2011, Syrian security forces launched a brutal crackdown against anti-government protesters calling for Syria's Bashar Assad to step down, effectively triggering what would become a protracted, multi-front conflict drawing in superpowers, regional actors and militant groups.
Activists claim to have documented a myriad of war crimes and crimes against humanity committed by Islamist militants and regime forces.