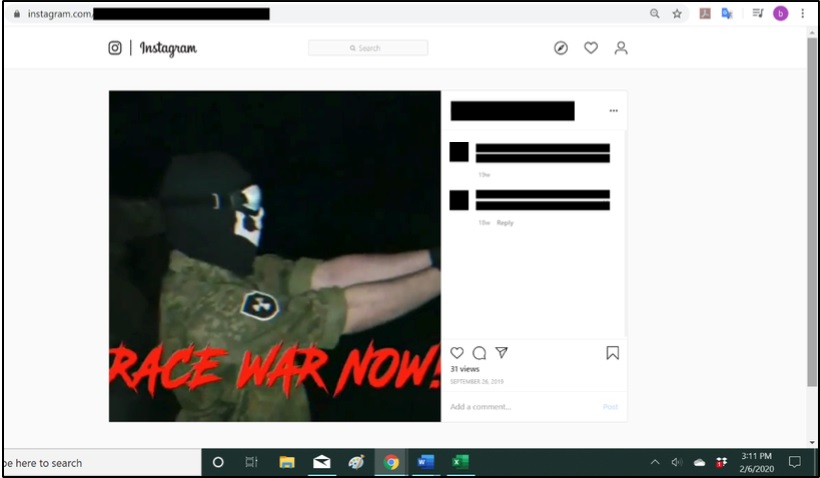 Several neo-Nazi Atomwaffen Division (AWD) and ISIS videos were located on Facebook owned Instagram. One of the AWD videos was uploaded in September by an account that has also posted several additional pieces of neo-Nazi propaganda and prominently features a neo-Nazi flag in the user's profile photo.
Over a dozen accounts posting ISIS propaganda were also located, included clips taken from ISIS videos, propaganda photos including corpses, Amaq news clips and written reports, and calls to commit acts of violence. ISIS video segments were not disguised, and included the terrorist group's logo, and in some cases the introductory video segments.
Legacy Maldivian Pro-ISIS Content Located After February 4 Stabbing Attack
Legacy Maldivian pro-ISIS content was located following the February 4 stabbing claimed by a pro-ISIS group. Three tourists, an Australian and two Chinese nationals, were injured. A pro-ISIS video uploaded over four years ago was located on Vimeo and the Internet Archive in Dhivehi and English, praising a Maldivian man who had joined ISIS. Pro-ISIS Dhivehi nasheeds were located on Soundcloud, originally uploaded between two and three years ago. Two pro-ISIS Maldivian blogs, one last updated in 2016, and another last updated in 2017, were also located, both of them on the WordPress blog platform. Over 170 individuals left the Maldives to join ISIS and other extremist groups in the Middle East, one of the highest per capita recruitment rates.
Neo-Nazi Accelerationist Telegram Channels Post Homemade Firearms Instructions
On February 4 and 5, at least six neo-Nazi accelerationist Telegram channels posted plans, videos, and links to websites that offer instructions for building homemade firearms. Plans include 3-D printed firearms, as well as craft produced firearms. At least one of the plans posted to Telegram was identical to one of the homemade firearms used by Stephan Balliet, who is charged with two counts of murder after an attempted terrorist attack on a synagogue in Halle, Germany on October 9. Balliet stated that he used homemade weapons in order to show that attacks with "improvised guns" were possible. The Telegram post was seen more than 2,500 times.