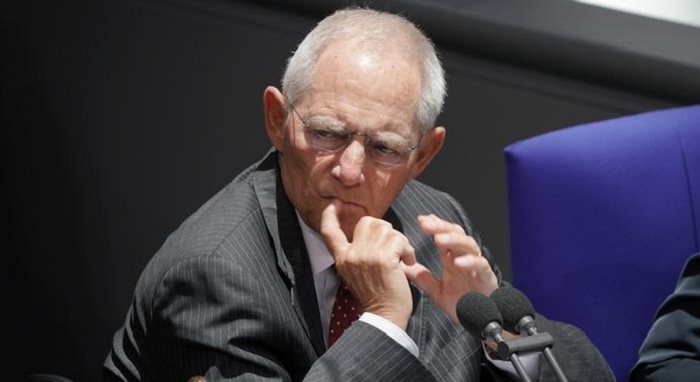 The German political grandee has criticized the Alternative for Germany (AfD) party, saying it does not "draw a line" to exclude radical elements. AfD politicians have been blamed over this week's killings in Hanau.
The Alternative for Germany (AfD) party is "open to right-wing extremism," Wolfgang Schäuble, the president of the Bundestag (Germany's parliament) told the newspaper Handelsblatt on Saturday.
"The problem is that the AfD does not draw a line," he said, criticizing the party for its affiliation with right-wing extremism.
His comments follow several days of finger-pointing towards the far-right, anti-immigrant party — the third-largest in Germany's parliament — in the wake of Wednesday night's deadly shootings in Hanau, which targeted the patrons of two hookah bars.
Schäuble gave the example of Thuringian AfD state leader Björn Höcke, who he said could be called a fascist, in reference to Höcke's support for another German nationalist and anti-Islam movement, Pegida.
If every problem in Germany is attributed to immigrants, events will quickly escalate to include all minorities, Schäuble warned. "We have known for a long time that words can turn into actions. Elected representatives cannot be released from this responsibility," he added.
The former finance minister said it was up to investigating authorities to quickly determine the motives and background relating to last week's shootings. But it is up to the state to politicians and the state to "not only talk about a well-fortified democracy but also enforce the law," he added.
'Racist incitement'
Meanwhile, politicians from the Christian Democratic Union (CDU), the Social Democratic Party (SPD), and the Free Democratic Party (FDP) said that public servants belonging to the AfD should leave their posts. "It is from the civil service that one expects a clear commitment to democracy, and that is what this democracy stands for," said CDU parliamentarian Patrick Sensburg. "In my opinion, it is not possible to work with the AfD."
"AfD functionaries have no place in the public service," said SPD politician Ralf Stegner. Those who belong to such a party identify themselves with a nationalistic, right-wing extremist policy that, with its racist incitement, bears a "significant share of the responsibility for right-wing terrorism in Germany."
FDP interior affairs spokesman Konstantin Kuhle expressed similar sentiments. "One cannot be in public service and at the same time want to abolish the free democratic basic order," he said. The more the ideas of Thuringian AfD leader Höcke become "mainstream" in the AfD, "the sooner civil servants and public employees should reconsider their involvement in the party."