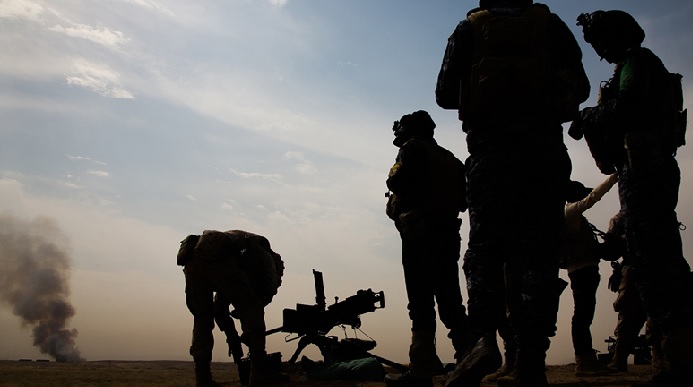 A group of Islamic State militants launched two attacks against the Iraqi Federal Police forces in Kirkuk governorate, a source in the area told Kurdistan 24 early on Monday.
The source claimed Islamic State militants attacked a security checkpoint belonging to the Iraqi Federal Police southwest of the city of Kirkuk, leading to heavy clashes between both sides.
The source also confirmed that Islamic State militants bombed the headquarters of a federal police brigade near the oil fields in Khobaza, severely wounding an officer.
Before the attack on Sunday, the Iraqi Federal Police announced the seizure of equipment between the villages of Atashana and Mansuriya in Kirkuk that "contained explosives, rocket-propelled grenades, and explosive devices belonging to ISIS."
The authorities said the explosives were detonated and destroyed under the supervision of the division's engineering battalion.
The province, which is part of disputed territories between the Kurdistan Regional Government (KRG) and the Federal Government of Iraq, has witnessed frequent insurgent attacks in the past few months.
Iraq declared victory over the Islamic State in 2017, but senior military leaders have warned that the organization is still maintaining activity through sleeper cells, exercising the strongest influence in tracts rural Iraq.
From their hideouts in bleak and inhospitable parts of the country, the terror group's sleeper cells have planned and launched a series of attacks on security forces in Nineveh, Anbar, Salahuddin, Diyala, and Kirkuk provinces.