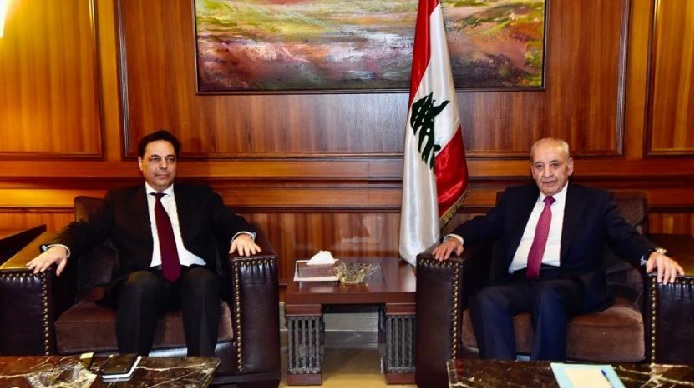 Hezbollah Secretary General Hassan Nasrallah's strong support has salvaged the government of Prime Minister Hassan Diab from a shakeup, politicians with close ties to the March 8 alliance told Asharq Al-Awsat.
Last week, Speaker Nabih Berri expressed anger over the government's delay in bringing back Lebanese expatriates who were stranded in their countries of residence following the closure of Beirut's airport as part of the coronavirus lockdown measures.
The Speaker threatened to suspend his support for the government if it did not act to bring the expatriates back home.
"If the government holds onto its position on the issue of expatriates … we will suspend our representation in the government," Berri said in a statement released by his office.
Political sources told the newspaper on Sunday that Diab was concerned that Berri's warning was in line of a Shiite decision for a government change.
However, the sources asserted that the PM's concerns dissipated after a meeting with the Hezbollah leader's political aide Hussein Khalil, who delivered Diab a message from Nasrallah.
Khalil eased tension between the Speaker and the PM.
The cabinet is scheduled to meet on Tuesday to agree on a mechanism for the return of the Lebanese expatriates from Africa, and Arab and European states.
According to opposition sources, Nasrallah is deciding the fate of the cabinet.
The sources told Asharq Al-Awsat that the Hezbollah secretary general acts on behalf of President Michel Aoun and Diab. "He is the only person allowed to set the government's priorities and determine its fate," they said.
Nasrallah's televised speech on Saturday aimed to deliver a message to the party's allies before its opponents.
"The Hezbollah leader does not see any justifications for overthrowing the government," they said.
The sources added that Nasrallah insists that the cabinet tackles two main issues during Tuesday's session – placing a swift mechanism to secure the return of expatriates to Lebanon and exerting pressure on banks to allow small depositors to withdraw their money from their accounts.
Hezbollah holds the banks responsible for the dire financial situation in the country.