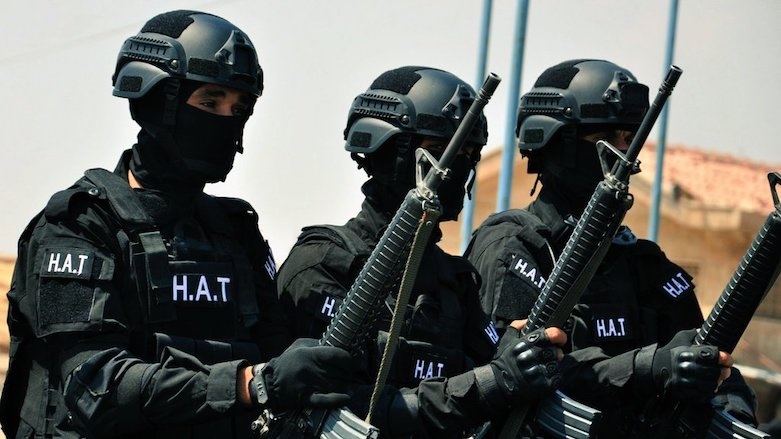 Anti-terror units of the Syrian Democratic Forces (SDF) arrested four Islamic State cells in an operation that included air support from the Coalition, the Kurdish-led forces said on Monday.
The SDF's Coordination and Military Operations Centre said on Twitter that its troops, "with air support from the international coalition," carried out two operations against Islamic State cells in the last 72 hours, arresting four elements of the active cells in Deir al-Zor province.
Myles B. Caggins III, Spokesman for the US-led Coalition, formally known as Combined Joint Task Force-Operation Resolve (CJTF-OIR), confirmed to Kurdistan 24 that the coalition offered air support during the SDF operation.
"These raids against known ISIS militants indicate the competence and commitment of the SDF's anti-terror commandos," he said.
"The Coalition continues to support the SDF for anti-ISIS operations by sharing intelligence and providing eyes-in-the-sky, while we all face the challenge of preventing the spread of COVID-19 (Coronavirus)."
According to a monthly report the Syria-based Rojava Information Centre (RIC) published on April 7, March saw decreases across the board – "in terms of (ISIS) attacks, (SDF) raids, deaths, and arrests – suggesting COVID-19 has distracted SDF and ISIS alike."
The report said that the RIC only managed to confirm three arrests of sleeper-cells, which is a huge decline from February where 96 Islamic State sleeper cells were detained.
"This shows there is great instability. Even when progress is made, it can be undone, especially when the political situation and external factors like coronavirus inhibit the SDF, Asayish [security], and Coalition efforts to stabilize the region," the report noted.
On March 30, Islamic State fighters attempted to escape from an SDF-jail in Hasakah city, which holds 3,000 to 5,000 people. Nevertheless, the SDF had the prison back under its control the following day.
According to the RIC, it was possible that fear of the coronavirus spurred the uprising and attempted escape.
Although assassinations did decline in March, the terror group continued its campaign of targeting individuals connected to the Autonomous Administration or SDF, the report concluded.
Nicholas A. Heras, Middle East Security Program Manager at the Institute for the Study of War, told Kurdistan 24 that the Islamic State retains an active network of fighters in northeast Syria that can launch sophisticated attacks.
"The threat of major ISIS operations against the SDF is a clear and present danger to the stability of the post-ISIS order in northeast Syria," he said.