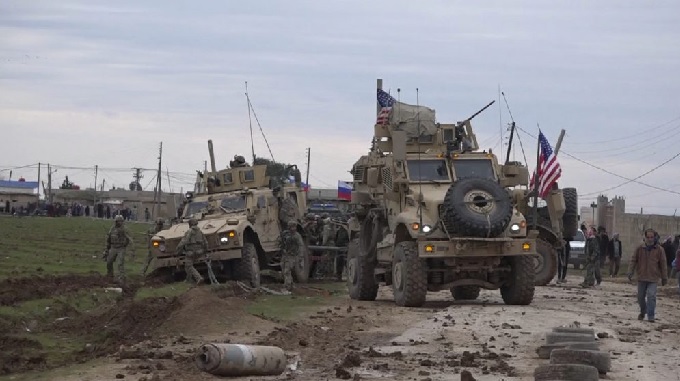 As Syrian dictator Bashar al-Asad continues seeking to gain control over rebel-held territory and move toward claiming victory in the Syrian civil war, the United States is looking to consolidate and expand its presence in the eastern provinces of Deir al-Zour and al-Hasakah. The primary U.S. presence has remained in northeastern Syria ostensibly to prevent the Islamic State and other terrorist and insurgent groups from taking control of oil fields in the region.
But for the United States, reconstituting a more robust presence in Syria will not be without its challenges. The situation the United States finds itself in now is largely a result of President Trump's impulsive and ill-timed decision to drawdown U.S. forces from Syria in earnest in October 2019. As presently postured, the United States lacks the manpower necessary to accomplish its objectives in Syria, where its leverage has waned considerably over the last six months.
The Syrian Democratic Forces (SDF) is fighting against the Turks and remnants of the Islamic State. While the SDF continues to cooperate with American forces, it has also been forced into a marriage of convenience with the Assad regime, thanks largely to the U.S. decision to withdraw its troops hastily, a move seen by many experts as a betrayal to the SDF. Russian influence also looms large over the relationship between Syrian Kurds and Assad, and Moscow's outreach to the SDF has been viewed as an affront to Turkey. In addition to having to guard against Turkish encroachment in northern Syria, the SDF is working to maintain control over detention camps holding Islamic State prisoners and their family members. This challenge will be exacerbated by the spread of the coronavirus pandemic, which would be devastating if it took hold in the camps, where conditions are already deplorable. In an effort to try to get back into Deir al-Zour, U.S. forces have sought to engage with the SDF, but after inexplicably drawing down forces last October, Washington's credibility in the region has reached a nadir.
In Syria, there are multiple competing factions and overlapping feuds. In northwest Syria, the line has been drawn between Turkey and the Russia. Ankara continues to provide support to a range of rebel groups, including some linked to jihadist organizations while Moscow bolsters the Assad regime through a combination of conventional and unconventional forces, including proxies and private military contractors. The Kremlin's hybrid warfare approach provides it with a range of options while entrenching forces in Syria, moving into position for an enduring presence, both militarily and politically. The Russians are seeking to establish a new military base east of the Euphrates River in an effort to extend their strategic influence within Syria and project power throughout the region.
Meanwhile, there is still the risk of increased conflict between Russia and Turkey. In early February 2020, Syrian regime artillery bombardments killed five Turkish soldiers in Idlib and an offensive killed another eight soldiers near Saraqeb, south of Taftanaz. Tensions were heightened several weeks later following clashes that left dozens of Turkish soldiers dead as the result of an airstrike that Turkey blamed on Assad. Russia's indiscriminate air strikes are also responsible for the surge in internally displaced persons (IDPs) in Syria's northwest, where more than 1 million people have been displaced over the past several months and suffering in Idlib Province has reached new levels. Elsewhere in Syria, Israel recently launched airstrikes against Iran-backed forces operating near Palmyra. The longer the conflict in Syria lasts, the greater the risk of increased conflict between various factions, including major regional powers.