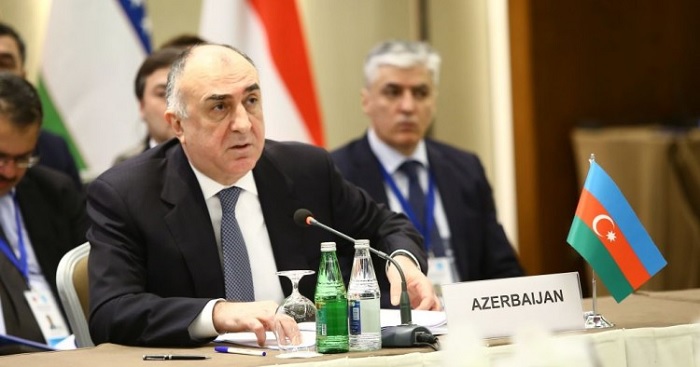 Azerbaijan will soon celebrate 30 years since its independence and sovereignty was restored. However, the country's foreign policy priorities have stayed largely the same since the early 1990s. That is, the restoration of territorial integrity, strengthening the country's independence, and the development of strong regional economic partnerships.
Neutrality, multilateral frameworks and bilateral relations
As a small nation located at the crossroads of former major empires, civilizations and regional and global powerhouses, Azerbaijan recognizes its foreign policy objectives cannot be achieved alone. Despite possessing significant oil and gas reserves – enabling economic development, investment in infrastructure and modernization of defense capabilities – Azerbaijan's size and ongoing conflict with neighboring Armenia means it must also seek alliances, build regional cooperation frameworks and promote itself around the world. Meanwhile, risks are heightened by the ongoing global competition over the hydrocarbon resources of the Caspian Sea, as well as the ambitions of regional powers to maintain influence in this strategic location. Under these conditions, Azerbaijan has developed several important foreign policy priorities to guide its integration into the global community.
The first priority is to refrain from joining military alliances and maintaining de-facto neutrality in the region. Azerbaijan has not joined the Russia-led Collective Security Treaty Organization (CSTO) and was one of the first former Soviet Union republics to free itself from Russian military troops and bases. Similarly, Azerbaijan harbors no aspirations to become a NATO member, unlike regional partners Georgia and Ukraine. It instead focuses on practical and pragmatic cooperation with NATO and its members within the Partnership for Peace program. Cooperation includes de-mining projects, peacekeeping operations in Afghanistan and Iraq, public diplomacy and education programs, and engagement on other non-sensitive issues. It has built similar military cooperation with Israel, Belarus, Ukraine, Pakistan and many other countries. Maintaining military de-facto neutrality helps to ensure the safety of Azerbaijan and alleviates potential pressures and risks from regional powerhouses.
Second, Azerbaijan actively engages in existing regional cooperation frameworks while at times proposing the creation of new multilateral institutions and platforms. It has fostered active engagement and cooperation with the United Nations and its specialized agencies; the Organization for Security and Cooperation in Europe; the European Union and its institutions, including the European Parliament and Council of Europe; the Commonwealth of Independent States; the Organization of Islamic Cooperation; the Economic Cooperation Organization; and many others. In 2011, Azerbaijan was elected as a non-permanent member of the UN Security Council – an important opportunity to seek the support of the international community on its foreign policy objectives. Azerbaijan is also a founding member of several new regional organizations, including GUAM and the Turkic Council, as well as informal trilateral cooperation frameworks like Azerbaijan-Georgia-Turkey, Azerbaijan-Iran-Turkey, and Azerbaijan-Turkey-Pakistan. Multilateral cooperation takes place not just politically or militarily, but also on economic and connectivity issues. This is demonstrated with the North-South transit corridor, involving Iran and Russia; the BTK regional railway project, involving Georgia and Turkey; and the TAP gas pipeline, involving Balkan countries and Italy. In 2019, Azerbaijan became Chair of the Non-Alignment Movement – another important foreign policy achievement. With more than 120 members, the organization possesses a strong voice in the international arena.
Finally, Azerbaijan actively works bilaterally with many countries to coordinate on political issues and develop economic opportunities, including around trade and investment. Only 15 years ago, Azerbaijan had some 25 foreign diplomatic representations, including permanent missions to international organizations. Today, this number stands closer to 85.
Prioritizing the Middle East
Unlike its neighbors, Azerbaijan has placed greater emphasis on the Middle East, recognizing the benefit of nurturing strong ties with Islamic countries in the broader Middle East.
One important factor in this is, of course, the shared religion of Islam. Azerbaijan is an active member of the Organization of Islamic Cooperation (OIC) and often hosts high-level committee meetings. It was with the support of OIC members that Azerbaijan was able to secure its nomination on the UN Security Council. Azerbaijan treasures its religious heritage and believes ties with the Islamic world, particularly the Middle East, offers valuable tools and opportunities to advance its foreign policy and economic objectives. Testament to the solidarity it feels with Islamic nations was Azerbaijan's hosting of the 4th Islamic Games in 2017. President Ilham Aliyev has also recently established a scholarship program for students from Islamic countries to study in Baku.
While shared Islamic heritage generally presents opportunities, it also creates some challenges and risks. Most notably, secular Azerbaijan has been concerned about the export of radical religious ideology, literature and strengthening of extremist sects tied to some religious circles in the Middle East. State authorities have been carefully monitoring this situation in an effort to ensure religious organizations, schools and other groups in Azerbaijan adhere to moderate Islam and receive no support from Middle East-based radical entities. At the same time, export of terrorism has also been a challenge for Azerbaijani law enforcement. The ongoing wars in Syria and Iraq have encouraged some radical youth in Azerbaijan to receive military training from terrorist organizations, thus increasing the risk of terror attacks at home.
Three Middle Eastern powerhouses in particular offer opportunities and support to Azerbaijan: Turkey, Iran and Saudi Arabia. Azerbaijan has so far managed to balance relations with these countries, often avoiding tensions around sensitive issues like relations with Israel, the war in Syria or competing regional energy projects.
Turkey has been Azerbaijan's main regional ally and strategic partner since independence. Strong linguistic and cultural ties are supported by regional energy projects like oil and gas pipelines, new regional railways and connectivity projects, military and humanitarian cooperation, as well as bilateral investments in the non-oil sector. Leaders of both countries have developed strong understanding of each other's priorities and are reliant on each other for regional cooperation and joint coordination around priority policy initiatives. Azerbaijan also views Turkey as a strategic balance in managing potential threats from other assertive neighbors.
Relations between Iran and Azerbaijan were frosty in the 1990s, with secular Azerbaijan concerned about the export of the Islamic revolution and Iran suspicious of Israeli-US-Azerbaijan military ties. However, in the past decade – and more so since President Hassan Rouhani came to power – relations have improved significantly. These ties focus on mutual economic, trade, transit and connectivity issues. The two countries regularly host economic forums and engage in joint infrastructure and investment projects. Azerbaijan has sent clear signals it has no intention to provide its territory for anti-Iranian military activities, while Iran appears to have reduced its support for radical Islamic groups within Azerbaijan. Still, the issue of the cultural rights of 30 million ethnic Azerbaijanis in northern Iran, as well as Iran's ongoing support to Armenia, continues to impact bilateral relations.
Saudi Arabia and other Gulf countries are viewed by Azerbaijan as primarily economic and trade partners. Most recently, two large Gulf energy companies were contracted by the government to develop large-scale renewable energy projects in Azerbaijan. Travel from the Gulf over the last five years has skyrocketed, following simplified visa agreements with Arabic countries. Notably, Azerbaijan has maintained strong relations with Saudi Arabia even as relations between Saudi Arabia and Iran soured.
Finally, worth also mentioning is that Azerbaijan is one of the few Muslim countries to maintain active cooperation and political dialogue with Israel. Trade between the two countries increases year on year, predominantly in the fields of defense, IT technologies, health, agriculture and education. The people of Azerbaijan and Israel also enjoy strong personal relationships, driven by vibrant diaspora communities in both countries.
Azerbaijan is eager to be seen as a reliable partner for regional cooperation and partnership. It will likely intensify relations with Middle Eastern countries around investment opportunities and joint ventures, particularly in the non-oil sector. Iran's pharmaceutical industry and car manufacturers are already engaged, while Azerbaijani state oil company SOCAR has invested in Turkey's petrochemical and refinery sectors. At the same time, cooperation is needed around security and counterterrorism, humanitarian challenges and potential opportunities for Azerbaijan's private sector to enter foreign markets. While keeping in mind the importance of strong ties with the EU and CIS countries, Azerbaijani will emphasize a balanced foreign policy approach and the role of Middle East will continue to increase.