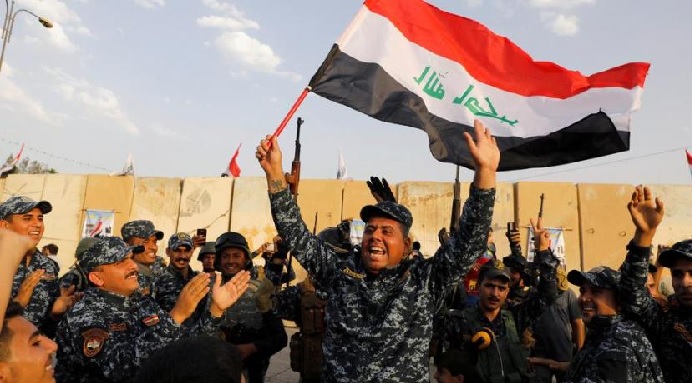 The Iraqi army launched operation Desert Lions to pursue ISIS remnants across the Jazirah desert north of the Anbar, south of the Nineveh and west of the Salaheddine provinces all the way to the border with Syria.
The Joint Operations Command is overseeing the operation that is aimed at pursuing terrorists and detaining fugitives in order to boost the security and stability of these regions.
Commander of the operations, Major General Qassim Mohammed Saleh said the mission seeks to ensure that the "enemy does not have an opportunity to attack our forces and hide in these vast deserts," which span over 200 square kilometers.
Defense Ministry spokesman, Major General Tahsen al-Khafaji announced that the operation is being conducted without the participation of the international coalition forces.
Recent terrorist attacks in Diyala and Salaheddine were possible because terrorists were able to infiltrate Iraq through the Syrian border, he said.
"The operations have searched more than 150,000 kilometers along the Iraqi-Syrian border and in Baiji [north of Baghdad]," he added.
Spokesman for the Salaheddine Council, Marwan al-Jubara, told Asharq Al-Awsat that ISIS has always been active in the province. He said the Harmin basin, which lies on the border of the Salaheddine, Kirkuk and Diyala provinces, is a prime location for terrorists to hide because of its rugged terrain, which makes it difficult for their pursuers.
This area has not been properly searched, which makes it open ground for terrorists to hide and operate, he explained. ISIS also has pockets in the areas west and north of Salaheddine, spanning all the way to Samarra and reaching the Syrian border.
He explained that no military units can conduct the searches in these areas, which therefore, this requires the support of the air force of the international coalition.
Meanwhile, Iraqi authorities warned that ISIS remnants were seeking to regroup, after a number of its members escaped from the al-Hol prison in Syria.
Syria's state-owned SANA news agency reported Sunday that a number of ISIS inmates escaped from the prison located in the Hassakeh province, which is controlled by the Syrian Democratic Forces (SDF).