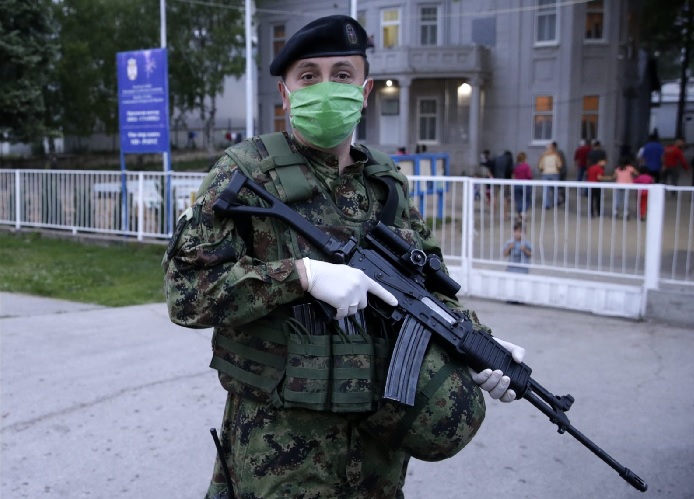 For migrants and refugees isolated in camps in the Balkans during the COVID-19 pandemic, celebrating the holy month of Ramadan is an extra ordeal.
It is Islam's holiest month of Ramadan, and many refugees and migrants crossing the Balkans on their way to Western Europe are observing it in especially difficult circumstances – stuck in migrant camps in Bosnia and Serbia, far from home, and far also from their hoped-for destinations.
Basher, aged 25, from Afghanistan, who is stuck in the Bira camp in western Bosnia, near the border with Croatia, is nostalgic for home. "I miss my homeland because [during Ramadan] we are at home together, with our family, keeping our fast, praying together and also eating food together," he said.
But, while repeating that he misses his family and home, the latest shocking news from Afghanistan he learned that day, on May 12, also reminded him why he left.
Unidentified gunmen had attacked a maternity clinic in Kabul, killing at least 16 people, including two newborn babies. The news report broke his heart, Basher said. "Forty years of wars have damaged our country, and it needs reconstruction," he said.
He came from a poor family, he said, and had crossed a lot of countries on his way to a better life, but has now been stuck in Bosnia for more than a year.
After making several unsuccessful attempts to cross the Croatian border into the EU, his odyssey remains unfinished.
Meanwhile, he is spending the holy month in a camp that he cannot leave at all now due to the movement restrictions imposed in Bosnia because of the coronavirus.
IOM says it is doing its best:
During Ramadan, Muslim believers fast from the sunrise until sunset, when they break the fast for a family or public dinner, called the iftar. Another meal, suhur, may be consumed in the early hours of dawn.
Muslims also attend communal prayers several times in a day in Ramadan. At the end of the month, all believers meet in mosques for the first morning of Eid al-Fitr, a three-day festival, when believers flow out into the courtyards and streets.
None of that is practical in a camp in Bosnia, where various coronavirus restrictions remain in force. Foreign citizens may not enter the country, for example, and the Federation entity of Bosnia has also extended certain measures until May 15, including bans on the outdoor movement of people over 65 and under 18. They can move around only on certain days.
"Here, there are many differences," Basher told BIRN, showing us pictures and videos of refugees and migrants in the camp holding prayers in the large hall.
There are currently about 7,500 registered migrants in Bosnia and Herzegovina. The International Organization for Migration, IOM, told BIRN that all temporary reception centres in the country provide a special space for prayers.
The IOM also said that, using European Union funds, it prepares three meals a day for migrants and that, during Ramadan, special cooked iftars and suhurs are prepared, "which are additionally nutritionally enhanced".
Basher said his fellow migrants were spending much of their time in long queues for food and complain about the food and hygienic conditions.
But the IOM said that great efforts were being made to improve nutrition. It also said that, due to the pandemic, hygienic conditions have been raised to an even higher level.
It told BIRN: "The IOM organised a workshop with a chef from Pakistan who did training for the local chefs … the IOM has procured all the available spices that are traditionally used in the countries where the migrants come from".
It added that it had also conducted a survey among migrants with questions about the quality of their food, which showed that "76.34 per cent of respondents answered that they were satisfied with the overall distribution of food".
However, the mood in some camps in Bosnia remains very restive. In the Lipa temporary migrant camp, also in the west of Bosnia, near the border with Croatia, a recent riot involved a large number of migrants who damaged a police vehicle in clashes with police.
Snezana Galic, from the police in Bosnia's Una-Sana Canton, told the media on Wednesday that the trouble started on Monday, when 200 to 300 migrants started rioting over an alleged lack of medical assistance.
Lipa is one of eight centres for migrants in Bosnia and was the last to be built. The relocation of migrants to the camp began in the second half of April, after the authorities imposed a movement ban on all migrants as part of the measures to prevent the spread of the coronavirus.
Bilal, an Iraqi Kurd, is spending his Ramadan in a camp in Serbia. The Serbian authorities closed all migrant and refugees camps in the country when the COVID-19 pandemic struck the country.
His earlier camp at Sombor, in northwest Serbia, closed on around March 15, he said, and ten days later he was settled in another camp in Krnjaca, close Belgrade.
On April 4, Serbia's Commissariat for Refugees and Migrants said the camps in Serbia hosted a total of 8,703 persons.
Serbia imposed a state of emergency on March 15 and two days later the government said no one could go in or out of the camps without special permission, and that these facilities would be placed under army guard.
Bilal said he had fond memories of Ramadan in his Kurdish-populated region in Iraq, where "we had a lot special food, we had everything".
Things weren't the same in a camp in Serbia, obviously. "Here we do not celebrate, and everyone is nervous, because when you do not stay in one country, all the time your mind is nervous," he told BIRN.
He described celebrating Ramadan in the camp as difficult. "We need some special foods, like sweets … delicious food but unfortunately they don't allow us to go out [and get them]," he told BIRN.
However, police said many of the migrants who were transferred to Lipa left the camp very quickly, and returned to the nearby town of Bihac.
Peter Van der Auweraert, the chief of mission in Bosnia for the IOM, told BIRN that general restrictions on movement are still in force, but that while migrants may not leave their accommodation centres, the IOM had managed to "mitigate some of the consequences of this isolation".
"These measures include access to shops, either by means of traders coming to temporary reception centres, or through representatives of migrants who buy [supplies] on behalf of other migrants, in the presence of the IOM," Van der Auweraert said, adding that measures also include allowing small groups of migrants access to Western Union offices, where they can withdraw money, "under controlled conditions and with police permission".
Now the general restrictions in Bosnia are being lifted, Van der Auweraert continued, it may be time to review the restrictions on migrants and allow "at least those migrants who have undergone a medical examination and have not shown signs of COVID-19 to move freely".
'Next Ramadan, I will be in Western Europe':
According to him, people in the camp also do not know when they will be free to go.
The Commissariat for Refugees and Migrants told BIRN that it was doing its best to help Muslims celebrate the holy month. "The provision of the desired foods and special delicacies that are prepared during iftar is possible thanks to the market that operates in Krnjaca, and whose procurement has been adjusted to needs, in accordance with the possibilities," it said.
But Bilal says the market operating inside the centre was expensive, and the earlier system of allowing one person to go out and buy food for the rest had also proved hard to operate.
"Before, they said one person [from] one camp could go out and buy something for other families, but that's difficult because … we are Syrians, Pakistanis, Kurds, so how can 14 families trust one person to bring them something? It is difficult," he told BIRN.
Prayers aren't easy, either. There is a hall in the camp for prayers but, due to pandemic restrictions in force in Serbia, banning gatherings in big groups, the camp inmates were advised not to use it. The Commissariat said it had advised "everyone to perform prayers for themselves in their room while the emergency measures are in force".
Ismail, a migrant from Algeria, who is stuck in Serbia, in a camp near the western town of Sid, nostalgically recalled the Ramadans celebrated in his family circle.
While waiting for his chance to leave the camp, he said he and "a group of Algerian friends [were] trying to create our own [Ramadan] atmosphere".
Meanwhile, Serbia has deployed troops near the camp. According to media reports on May 16, the military is deployed to protect the local population from alleged harassment and robberies committed by the migrants.
"Serbs have a wrong view of migrants," he noted, adding that he had bad enough of the Balkans – and had also experienced plenty of police violence.
"Next Ramadan, I will be in Western Europe… If I do not arrive there, I will return to Algeria," he concluded.