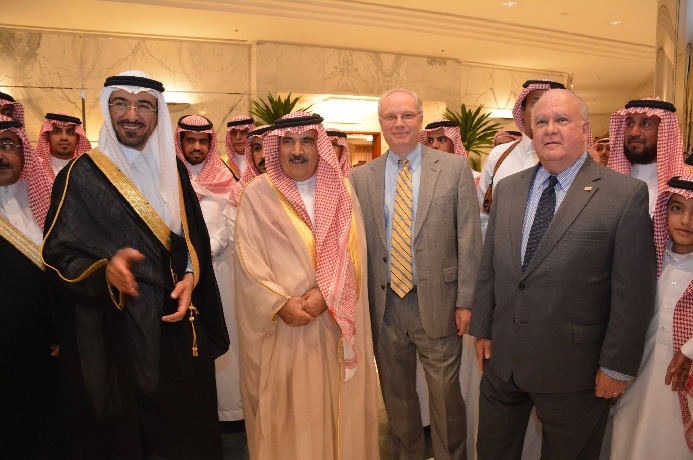 Saad Aljabri knows "where the bodies are buried." Now Saudi authorities are arresting his relatives to force him to return to the kingdom, his son says.
For years, he was one of Saudi Arabia's top intelligence officers, an expert in artificial intelligence who played key roles in the kingdom's fight against Al Qaeda and in its security coordination with the United States.
But since 2017, Saad Aljabri has been lying low in Canada, fearing for his life and resisting increasing pressure from Crown Prince Mohammed bin Salman to return to Saudi Arabia, according to his son and associates.
That pressure campaign has now snared Mr. Aljabri's family.
Since March, two of his adult children and one of his brothers have been arrested by the Saudi security forces and held incommunicado, Mr. Aljabri's son said in a telephone interview.
"It has been weeks and we don't know where they are," said the son, Dr. Khalid Aljabri, who is also living in Canada. "They were kidnapped from their beds. I don't even know if they are alive or dead."
The Saudi authorities have not confirmed the detentions, and officials at the Saudi embassy in Washington did not respond to a request for comment about Mr. Aljabri or the arrests.
It is common in some Middle Eastern countries for authorities to put pressure on someone by detaining or threatening their relatives. At the same time, the killing of the dissident Saudi writer Jamal Khashoggi by Saudi agents in Istanbul in 2018 raised the stakes for people like Mr. Aljabri, who once felt safe outside the kingdom.
Mr. Aljabri's son and former United States officials who worked with him say that Prince Mohammed, widely known by his initials, M.B.S., wants to force Mr. Aljabri to return to Saudi Arabia because he fears leaving someone at large who had access to so much secret information.
"The broader issue is that M.B.S. is nervous about anybody who is outside of his control," said Gerald M. Feierstein, senior vice president at the Middle East Institute in Washington, who dealt with Mr. Aljabri while serving as the United States Ambassador to Yemen.
Mr. Aljabri was immersed in so many sensitive issues during his decades in intelligence that he would know "where the bodies are buried" in Saudi Arabia, possibly including unflattering information about Prince Mohammed, Mr. Feierstein said.
Mr. Aljabri's intelligence career ended as a casualty of the struggle between two powerful princes over who would rule Saudi Arabia, and he has become the latest example of how far Prince Mohammed will reach to squelch potential threats.
Prince Mohammed, 34, has gone after numerous critics and perceived rivals at home and abroad, including Mr. Khashoggi, who was killed after publishing opinion columns critical of Prince Mohammed in The Washington Post.
Mr. Aljabri was never a public critic of Prince Mohammed's but was a staunch ally of Prince Mohammed's chief rival for crown prince, Prince Mohammed bin Nayef.
Prince Mohammed bin Nayef, who headed the Interior Ministry, was arrested in March, apparently because he had been complaining privately about how the crown prince was running the kingdom.
Mr. Aljabri, a linguist and computer scientist with a doctorate in artificial intelligence from the University of Edinburgh in Scotland, worked in the Interior Ministry for nearly four decades, earning the rank of major general, serving as Prince Mohammed bin Nayef's right-hand man and being appointed to a cabinet-level position by King Salman.
He spoke better English and was more outgoing than his boss, and maintained relationships with intelligence officials from the United States, Britain and other countries.
American officials said Mr. Aljabri played a key role in many of the kingdom's most sensitive security matters, including the fight against Al Qaeda and the protection of Saudi oil facilities. Mr. Aljabri declined to comment for this article.
His primary American interlocutors were officials in the Central Intelligence Agency, but diplomatic cables released by WikiLeaks detail his discussions with other officials on topics including Iraq, Yemen, Afghanistan, terrorist financing and Iran's regional ambitions.
"Saad Aljabri was a good guy, full stop, and I think everybody who dealt with him appreciated him," Mr. Feierstein said. "He was smart, he was serious, he worked hard and he was well-disposed to the U.S. — a good partner for us."
Mr. Aljabri developed such close relationships with United States officials that some attended his children's weddings.
Bruce Riedel, a former C.I.A. official now at the Brookings Institution, said that the Interior Ministry's vast surveillance apparatus gave it a treasure trove of the kingdom's secrets, including the activities of members of the royal family, corruption schemes and crime.
"Their files will be the catalog of every untoward incident, from the truly illegal to the maybe just embarrassing," Mr. Riedel said.
While Western officials presume that Mr. Aljabri's knowledge of those secrets lies behind the crown prince's efforts to return him to Saudi Arabia, two people briefed on his case, one American and one Saudi, said that Saudi authorities have justified the efforts by accusing Mr. Aljabri of corruption.
The two people, who spoke on condition of anonymity because they were not authorized to share the information, said that Mr. Aljabri is accused of using his position to amass a personal fortune and that the prince wanted the money back.
The Saudi authorities have not made public any corruption allegations against Mr. Aljabri.
Prince Mohammed rocketed to power after his father, King Salman, ascended the throne in 2015, and Mr. Aljabri's standing faltered as Prince Mohammed's rose.
In late 2015, Mr. Aljabri was fired from his job at the ministry by royal order, a decision he and his boss learned of only when it was broadcast on television.
He was abroad in 2017 when Prince Mohammed shoved aside Prince Mohammed bin Nayef to become crown prince. Prince Mohammed Bin Nayef was put under house arrest and had his assets frozen, and Mr. Aljabri, concerned that he would meet a similar fate, decided not to return to Saudi Arabia, his son said.
One of the people briefed on Mr. Aljabri's case said he had not settled in the United States despite deep ties there because he was worried that the Trump administration would send him back to Saudi Arabia if Prince Mohammed asked. President Trump has made a close relationship with Saudi Arabia key to his Middle East policy, and his son-in-law and senior adviser, Jared Kushner, is close to Prince Mohammed.
When Mr. Aljabri left the kingdom, two of his eight children remained, and the Saudi authorities began putting restrictions on them to pressure their father to return, Dr. Aljabri said. The two remaining children — Sarah, 20, and Omar, 21 — had planned to study in the United States, Dr. Aljabri said, but within hours of Prince Mohammed's rise to crown prince, the siblings learned that they were barred from leaving the kingdom.
Later, their bank accounts were frozen and they were summoned for questioning and told to encourage their father to come home, Dr. Aljabri said.
On March 16, security forces came to the Aljabri home in Riyadh at dawn and took Sarah and Omar Aljabri from their beds, Dr. Aljabri said. Last week, the authorities arrested Mr. Aljabri's brother, Abdulrahman Aljabri, a U.S.-educated electrical engineering professor in his 60s, Dr. Aljabri said.
The family has grown increasingly worried as the weeks have passed with no news from their relatives. So in addition to breaking their silence in an interview with The New York Times, they hired a Washington lobbying firm to press for the release of their relatives.
"They are hostages and the ransom is my father's return," Dr. Aljabri said. "MBS is all about tying up loose ends, and he decided that my dad is the biggest one."