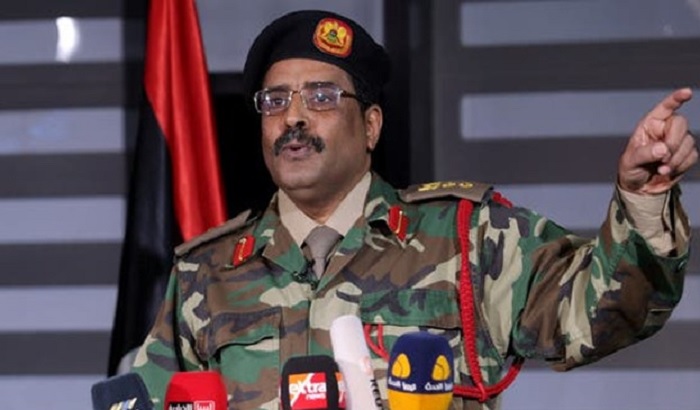 Spokesman of the Commander-in-Chief of the Libyan Armed Forces, Major General Ahmed Al-Mesmari, has stressed that the blatant Turkish military intervention in Libya and its support for Al-Wefaq government's militias since 2014 have thwarted all attempts to reach a political solution in Libya.
He added during a press conference on Thursday that all the foreign agreements signed by the President of the Libyan Presidency Council, Fayez al-Sarraj, are illegal, explaining that the Presidency Council did not gain legitimacy from the Libyan Parliament.
"Turkey is under the guise of agreeing with the so-called government of reconciliation to attack the Libyan people and their capabilities," Al-Mesmari said. "The sovereignty and freedom of our homeland are in danger and we must fight," he added.
Al-Mismari also revealed that the number of Turkish military personnel in Libya is 1500, as well as other elements of security companies.
He said, "Turkey is now preparing to transport 2,500 other special operations forces and commandos to Libya."
Al-Mesmari stated that "Turkey transferred approximately 17,000 of the young Syrian people who were deceived or from extremist groups to the Libyan lands."
He explained that during the last week alone, 34 flights were conducted between Istanbul on the one hand, and Tripoli and Misrata on the other hand.
He also accused Turkish President Recep Tayyip Erdogan of transferring "terrorists and extremists" to Libya, urging the United Nations to incriminate him for his war crimes in the country and disrespect to the international law.