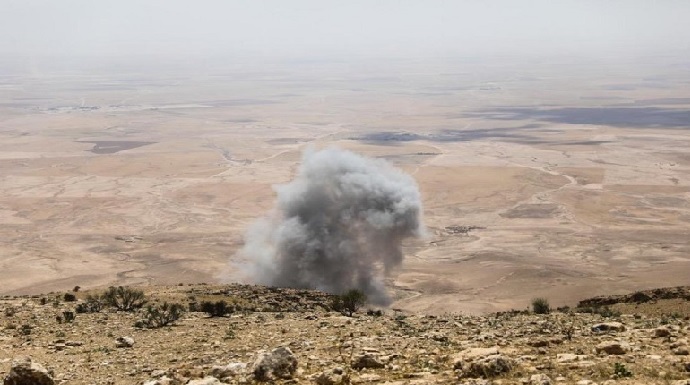 The US-led coalition against the Islamic State, in coordination with Kurdish Peshmerga forces, carried out airstrikes on Wednesday against the terrorist group's fighters in the area known as Qarachukh Mountain, located outside the disputed district of Makhmour, a security source said.
According to the source, the strikes targeted tunnels used by militants as a launching pad to burn down nearby crops fields of the citizens living in the area.
Casualties among the Islamic State extremists remain unknown as small sleeper cells are spread throughout hideouts in Mount Qarachukh.
"The Islamic State took full advantage of the security void in disputed Makhmour to regroup and exploit the weak security in remote territories and villages under Iraqi security forces' jurisdiction to launch nighttime insurgent attacks against Kurdish civilians living there," the security source added.
Peshmerga commanders stationed at the Gwer frontline outside Makhmour have continuously warned the federal government of a mounting Islamic State presence in the area and of the threat it posed to residents.
Last week with the beginning of harvest season, Islamic State burned down hundreds of acres of crop fields in the disputed Makhmour district. The group also claimed responsibility for fires in Diyala's Khanaqin district on Thursday. In the past week, a Kurdish military commander as well as an Iraqi official have previously accused the terrorist organization of being behind at least some of these incidents.
Makhmour is one of the territories disputed by the federal Iraqi government the Kurdistan Regional Government (KRG). It is located on the outskirts of Erbil province, some 60 kilometres southwest of the Kurdistan Region's capital city.
After the fall of the previous Iraqi regime in 2003, the town was jointly administered by the two governments since the fall of the Iraqi regime in 2003.
Following the emergence of the Islamic State in 2014 throughout many of Iraq's disputed territories, Peshmerga forces held their frontline and prevented militants from entering their territory despite the terrorist organization controlling adjacent land. Security in those areas, however, significantly deteriorated after Iraqi forces backed by Iran-backed Popular Mobilization Force (PMF) militias overran disputed territories in response to the Kurdistan Region's September 2017 independence referendum, driving Kurdish forces out.
Since then, Iraqi forces have been in charge of protecting the area of Makhmour. Like in several other disputed territories, the extremist group has taken advantage of the security vacuum in such areas. In Makhmour, they have staged multiple attacks against security forces or civilians, as well as extorting local villagers and farmers to pay "taxes" or give them livestock under threat of violence and death.
Over the past few years, the Peshmerga forces and Iraqi troops, backed by US-led Coalition airpower, have launched several military operations to eliminate sleeper cells hiding in areas surrounding Mount Qarachokh.