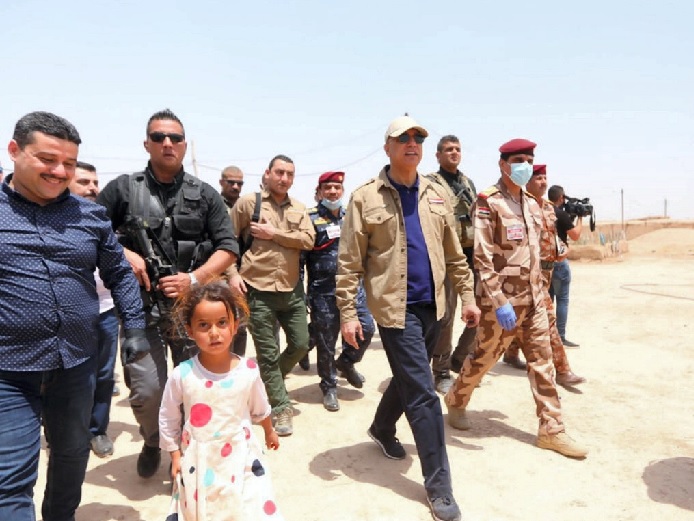 Iraq on Tuesday launched the second phase of a military operation in the north to combat ISIS sleeper cells.
The country announced victory over the terrorist group in 2017 but in recent months ISIS militias have increased ambushes and attacks across the north, killing and wounding Iraqi as well as foreign security personnel.
"The second phase of the 'Iraqi Heroes' operation was launched on Tuesday to search the southwestern areas of Kirkuk bordering the province of Salahuddin," military spokesman Yahya Rasool said in a statement.
The operation aims to enhance security and stability in the northern areas by pursuing ISIS remnants and arresting the wanted, he said.
The terror group still has bases in rural areas of Anbar, Diyala, Kirkuk, Saladin and Mosul provinces.
But the international anti-ISIS coalition believes the militants are losing, even though it remains a major opponent.
Prime Minister Mustafa Al Kadhimi praised the military for their efforts.
"In these difficult circumstances and the many challenges that the country is going through, our heroes of the armed forces will defy the enemy and play a heroic role in combating terrorism," he said in a statement.
Mr Al Kadhimi arrived in the northern city of Kirkuk on Tuesday morning to monitor the progress of the operations between the federal and Kurdish Peshmerga forces in disputed areas, Hisham Al Hashimi, an Iraqi security analyst said.
The 'Iraqi Heroes' operation consists of the army air force, international coalition flights, all security intelligence agencies, the federal police, and forces from the Popular Mobilization Units.
ISIS still has around 3,000 to 4,000 active fighters and 8,000 inactive fighters in Iraq, according to the Centre for Global Policy.
Last week, Iraq said that a senior ISIS leader was killed in a coalition raid on the militant group in eastern Syria.
Moataz Al Jubouri, known as the "governor of Iraq and head of ISIS's foreign operations", was killed in an air strike in Syria's Deir Ezzor province Iraqi authorities said.
Al Jubouri was also known as Hajji Tayseer.
The attack was carried out with the assistance of Iraq's intelligence and counter-terrorism services.