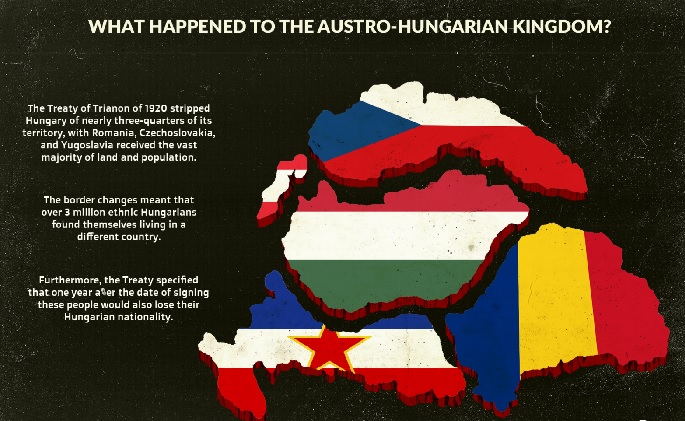 A hundred years after the Treaty of Trianon redrew the borders of Central Europe, it still generates powerful and opposing feelings of resentment and celebration across the region.
The map of Central and Eastern Europe has been thoroughly changed over the last century. Old empires have disappeared and new countries have emerged, while some traditional foes became friends and some former allies turned into rivals.
One historic event that reflects how much, and perhaps also how little, the world has changed in the last century, is the peace treaty signed in the Grand Trianon Palace in Versailles on June 4, 1920.
This treaty marked the final dissolution of the Austro-Hungarian Empire at the end of World War I. It laid the foundations for the new map of Europe, but, while resolving some old disputes, also created new ones.
The treaty is best known for stripping Hungary of two-thirds of its territory and almost half of its population. These were divided between Austria, Romania, the new state of Czechoslovakia and the new Kingdom of Serbs, Croats and Slovenes, later called Yugoslavia.
A century on, the treaty still stirs anger and emotion across the region. While some celebrate it as a new beginning, Hungary remembers it only as one of the greatest tragedies in its history.
Memories of Trianon haunt many Hungarians, who see it as an almost personal trauma: unjust, and a source of contention over the rights of ethnic Hungarians in Romania, Slovakia and Ukraine to this day.
"What was unjust before remains unjust until the end of the times. Wounds can be healed but amputation can not," Hungary's Prime Minister, Viktor Orban, said in his speech marking the anniversary of this event last year.
A historical grievance and a contemporary problem
Experts say the Trianon trauma is a key to understanding why many Hungarians feel themselves "victims" – and why politicians who vow to "defend Hungary against further injustices" gain popularity.
Hungary's conservative and right-wing parties rediscovered the value of the Trianon-trauma vote right after the democratic transition in 1989, and have used it to rally support. Orban has drawn on it frequently in his ascent to power over the past decade.
According to a recent opinion poll conducted by the Trianon 100 research group, a group of young researchers set up by the Hungarian Academy of Sciences, as many as 85 per cent of Hungarians consider it the country's biggest national tragedy.
Some 77 per cent of respondents said the country had never really recovered from the loss, or got over it. The consensus in Hungary remains that the peace treaty was unjust and fully ignored the nation's ethnic borders.
"In Hungarian society, there is a very strong emotional relationship to Trianon, coupled with surprisingly little factual knowledge about it," Balázs Ablonczy, leader of the Trianon 100 research group, told BIRN.
As long as Hungarian communities continue living beyond the borders of Hungary, they will serve as a memento for the local society, and keep reminding it of their tragedy, he observed.
"Although a lot has improved in the last 30 years, as far as minority rights are concerned, this improvement could easily be reversed," Ablonczy added, citing the example of the Hungarian minority in Ukraine, which in April 2019 lost its right to study in its mother tongue after decades of relatively well-functioning bilingual education.
Zsolt Németh, chairman of the Hungarian parliament's foreign affairs committee, told BIRN that the Trianon Treaty was not only a historical grievance but also a contemporary problem. It still concerned the rights of some 3 million Hungarians who currently live as minorities in neighbouring countries.
"As long as these questions are not settled, and unfortunately, they haven't been solved in the last decades, they will undermine the stability of the region," said Németh, a founding member of Orban's governing Fidesz party.
Hungary softens its tone to please its neighbours
While Hungary in the past has used the anniversary to stir emotions among its diaspora scattered across Central Europe, this centenary saw Orban's government apparently playing down the event.
Citing security reasons due to the coronavirus pandemic, instead of sponsoring big commemorations, the government put together a modest programme based on TV documentaries plus an extraordinary session of parliament with an expected Orban address.
Daniel Bartha, director of the Budapest-based think tank, the Centre for Euro-Atlantic Integration and Democracy, CEID, told BIRN that the pandemic had come in handy for the government, as it wanted to avoid fresh diplomatic rows with neighbouring countries.
"Relations are relatively consolidated with most countries of the region, and it would not be worth putting them at stake," Bartha observed.
Hungarian parliamentarian Németh agreed. "The government would like to have historical reconciliation in the region," he told BIRN. "We are on the right track with Slovakia and Serbia, and relations are excellent with Austria, Slovenia and Croatia as well," he said, stressing that with Romania alone, issues remained unresolved.
Romania and Hungary switch roles in provoking tensions
While no one had expected Hungary to miss the chance to use this centenary to stir national emotions, no one had expected Romania's President, Klaus Iohannis, to take the lead in provoking tensions.
The political scene in both countries is still reeling from shock after Iohannis delivered a harsh video message on April 29, accusing the opposition Social Democratic Party, PSD, of caving into the ethnic Hungarian minority in Romania's Transylvania region and of plotting "to give Transylvania to the Hungarians".
He made the controversial claim in reaction to draft legislation previously approved by the lower house of Romania's parliament, in which the PSD is the largest party, and which appeared to open the door to limited autonomy for part of Transylvania where ethnic Hungarians are concentrated.
The law was soon voted down in the upper house, but in his two-minute video message, Iohannis mockingly greeted the PSD leader in Hungarian, asking what Hungary had promised the PSD in exchange for supporting the draft law.
While the Hungarian government criticized Iohannis' statement, Viktor Orban interestingly refused to pick up the gauntlet and appealed for calm.
On May 21, Romania's National Anti-Discrimination Council fined President Iohannis 1,000 euros for having violated the human dignity of Hungarian nationals in Romania.
Nevertheless, tensions remained high between the two countries, especially after the Romanian parliament on May 13 declared the Trianon centenary a public holiday, meaning that for the first time in its history, Romania would hold public celebrations on June 4.
The law was initiated by the same PSD that the Romanian President accused of working hand on glove with Hungary – and was supported by both the centre-right government and the social democratic-led opposition.
Ethnic Hungarians in Romania were dismayed. Hunor Kelemen, of the Democratic Union of Hungarians in Romania, UDMR, said Romania's parliament would have done better by finding "facts that bring us closer instead of matters that divide".
He added that while the peace treaty "brought great joy to the Romanian nation", it still represented "a huge loss and sadness for the Hungarian nation and the Hungarians."
Rightists in Croatia and Slovenia look to Budapest
Unlike with Romania, relations with Slovenia and Croatia in recent years have become solid, if not always warm. Conservative forces in Croatia and Slovenia tend to pay special attention to remaining in Orban's good books.
However, the public in both countries and across the region was shaken after Orban in early May posted a Facebook message, wishing good luck to students taking their final exams, showing him in front of an old map of Hungary in its pre-World War I borders.
This was not the first time Orban had been photographed in front of old maps of Hungary, but this time Croatia's recently elected President, Zoran Milanovic, former leader of the opposition Social Democratic Party, SDP, responded with his own jab.
Milanovic posted his own message on Facebook, urging Croatian school graduates not to publish any old maps that make Croatia look any bigger than it is now.
However, the reaction from Croatia's centre-right government run by the Croatian Democratic Union, HDZ, was much milder. In recent years the HDZ has become a close ally of Hungary and Orban.
The veteran Zagreb-based political analyst Zarko Puhovski told BIRN then that Croatia was not fussed by Orban's map.
"The Croatian state leadership and Croatian nationalists know … that what Orban is doing makes sense only for internal [Hungarian] use, and does not indicate any serious intentions, except perhaps, towards Romania," he said.
Croatia emphasizes its good relations with Hungary, even though many experts believe that the country, which currently holds the presidency of the European Union, should have been less tolerant of democratic backsliding in Hungary.
Reactions to Orban's post were similarly muted in Slovenia. President Borut Pahor and several parties condemned the post, but political analyst Alem Maksuti told BIRN that even these reactions were mild.
He said that Slovenia was divided between those who still strongly uphold democratic principles, and other more conservative forces, led by new-old premier Janez Jansa, who openly admires Hungary.
"Part of the Slovenian public, led by Jansa, in some way supports the idea of some association with the Visegrad states," he concluded referring to the loose alliance of Poland, the Czech Republic, Slovakia and Hungary.
And some historic grudges are (almost) forgotten
Contrary to the festering tensions with Romania, Hungary's relations with Slovakia and Serbia have reached an all-time high.
One obvious sign of this was that Serbian President Aleksandar Vucic, infamous for his melodramatic reactions to nationalist statements from neighbouring countries, remained silent about Orban's recent photo with an old Hungarian map.
At the time of the centenary of the Trianon treaty, ethnic rows that in the past marred relations between the two countries seem distant memories.
Serbia's Hungarian community is small and clustered close to the northern border with Hungary. According to the last census from 2011, 230,000 Hungarians lived in the northern Vojvodina province, though many believe the current number is significantly less.
Relations are close between President Vucic and Prime Minister Orban. The two strongmen met three times in May alone, and following their last meeting in Belgrade, on May 15, Vucic praised their best-ever relations "in all spheres".
The only reaction in Serbia to Orban's recent photo came from the province of Vojvodina, which formed part of the Austro-Hungarian Empire before Trianon.
The Vojvodjanski Klub, a non-profit and non-partisan association of civil society groups condemned what it called Orban's "cartographic" provocation, as well as Vucic's silence.
Dinko Gruhonjic, a journalist and a member of presidency of Vojvodjanski Klub, told BIRN that Vucic and Orban enjoyed not only close political but also business relations, and Vucic saw Orban as a role model.
"Orban is inspiring Vucic. The Serbian President is learning from him and admiring him. It is a classic pact of authoritarian populists. They always say relations between two countries have never been better, but I only see that two hybrid regimes' relations are getting better," Gruhonjic said.
As ties between Belgrade and Budapest flourish, so do the fortunes of a group of companies connected to people close to the inner circles of Orban, Vucic and Serbian Prime Minister Ana Brnabic, as a joint investigation by BIRN and Direkt36, published in 2019, revealed
According to Gruhonjic, the Alliance of Vojvodina Hungarians, a small ethnic Hungarian party in Serbia, has acted as the main bridge between Vucic and Orban.
Orban uses both the party, other associations of Hungarians in Serbia and football clubs to channel his influence in many areas.
Gruhonjic said Orban has used these channels to consolidate his power ever since his ruling Fidesz party in 2010 passed laws offering Hungarian citizenship to diaspora members living outside Hungary's borders.
"The intention was the national mobilization of all Hungarians, but also to gather additional voters, using Trianon resentment," Gruhonjic concluded.
"But there are less and less Hungarians in Vojvodina, since dual citizenship has enabled them to move out of poor Vojvodina to the EU – and consequently there is no nationalistic radicalization of [the remaining] Hungarians in Serbia," he said.
Relations are now also good between Hungary and Slovakia, although only some ten years ago, Trianon anniversaries were used by both sides to instigate quarrels.
"Slovak-Hungarian relations are much more balanced now," said Grigorij Meseznikov, a political scientist at the Public Affairs Institute in Bratislava.
"Slovakia used to initiate problematic topics, which naturally did not meet a very positive response in Hungary," he added.
The situation gradually changed. For six out of the last ten years, a Hungarian minority party, Most-Hid, led by an experienced politician, Bela Bugar, was a part of the Slovak government.
Its presence, paired with the similar leanings of the two national leaders, Viktor Orban and Robert Fico, have brought a new calm to Slovak-Hungarian relations. "The pressure has really decreased and the relationship has normalised," Meseznikov said.
As a result, the centenary of Trianon, especially at the time of the coronavirus pandemic, has drawn little attention in Slovakia.
"In the mind of the people here, Trianon is not a milestone that is that important," said Professor Stefan Sutaj, a historian at the University of Pavol Safarik in Kosice, who thinks Slovaks pay more attention to the anniversaries of the creation of the first Czechoslovak Republic.
"Under communist Czechoslovakia, the Trianon treaty was wiped out of history completely, and since [Slovak] independence, Trianon really hasn't played a big role here," Sutaj said.
He added that for these reasons, the Trianon treaty has rarely been invoked in Slovakia, except when Slovak nationalist politicians wanted to provoke Hungary.
"I think that if we asked people, very few of them would even know what Trianon meant," said Olga Gyarfasova, sociologist at the Comenius University in Bratislava. She admits that the considerable 450,000-strong Hungarian minority in Slovakia might see history differently, but believes they do not care about the anniversary that much now.
The good relations between the two countries were most recently reflected in the visit of the new Slovak foreign minister, Ivan Korcok, to Budapest on Tuesday, only two days before the Trianon centenary.
Experts and media still debate whether this visit and its timing was a gesture of friendly relations, or a mere coincidence, affected by the recent loosening of coronavirus restriction measures in both countries.
Korcok was well aware of the historic significance of his timing. "I came here at a very sensitive time," he said in a video message posted on Facebook.
"It is true that both our countries understand these historical events differently. A trauma for one means freedom for another, but that is what European history is like," Korcok said.
"What is important, however, is our own responsibility towards the present, towards our citizens and our future, so that history doesn't tie our hands and prevent us from developing our relationships," he added, pointing to the Danube River behind him – a living, flowing symbol of the connection between all the countries in the region.