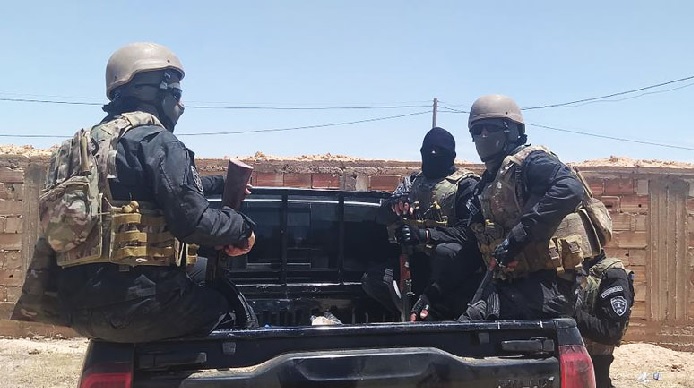 The Syrian Democratic Forces (SDF) launched a large-scale operation on Thursday against the Islamic State in Syria's Deir al-Zor province after a recent increase in attacks by the extremist group.
The campaign, named "Deterrence of Terrorism," is expected to last at least approximately one week.
"ISIS attacks have increased in the recent period, which poses a real threat to people's safety, security and stability," the SDF's General Command said in a public statement on Friday.
The operation was launched in coordination with the Iraqi army and the US-led Coalition against the Islamic State.
SDF Commander Adnan Efrin told the local news agency Northpress that at least 6,000 SDF fighters are participating in the campaign in response to a call from civilians and tribal leaders to assist them amid the recent increase in activity of Islamic State sleeper cells.
The news agency reported that, on Thursday, four cell members were arrested in the village of Albu Hamdah outside the town of al-Dashisha in the southeastern countryside of Hasakah.
The SDF General Command said that the goal of the campaign will be to "pursue and track the cells of ISIS terrorist organization in the eastern Badia (desert) along the Khabour River and the Syrian-Iraqi border."
"This campaign will target ISIS's hideouts and hotbeds which were a source of concern to the people and that work to disturb security and stability in the region and constitute a threat that threatens the return of ISIS," the SDF General Command said, adding that the effort is so far proceeding well and will continue until its objective is achieved.
Despite the SDF and the US-led Coalition announcing the Islamic State's defeat in Syria in March 2019 at Baghouz, the terror group's activity persists in areas the Kurdish-led forces previously liberated.
Representatives of the Coalition held a virtual meeting on Thursday, in which they affirmed their "shared determination to continue the fight against Daesh/ISIS in Iraq and Syria and to create conditions for an enduring defeat of the terrorist group," according to the joint communique of the conference.