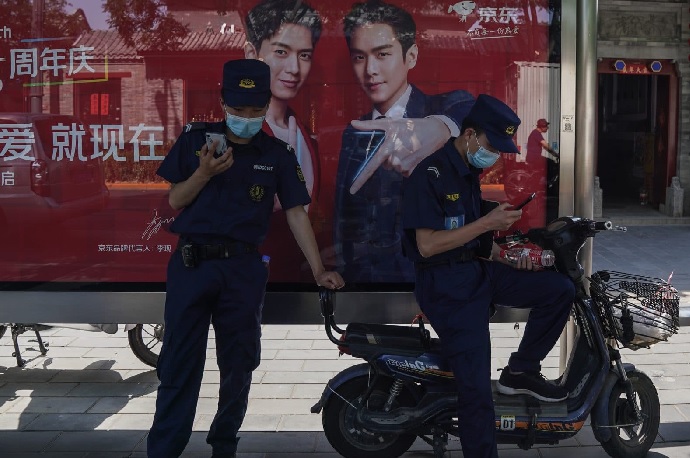 While experts debate the scope and aim of Chinese media offensive in Slovakia, surveys show that it is already having an effect on public opinion.
For years, Slovakia was fertile ground for public debates, disinformation campaigns and conspiracy theories believed to be linked to Russia's propaganda machine.
Lately, however, China has been stepping up its media game and taking centre stage, surfing on the pandemic wave.
"The Chinese embassy in Slovakia has started an information offensive," the Slovak cyber security portal Infosecurity.sk noted last month.
At the same time, the Slovak Defence Ministry published an "Infodemic" report naming both China and Russia as the two main countries spreading disinformation related to COVID-19.
This would seem an accomplishment for the Chinese embassy in Bratislava, which only set up its Facebook page this February. But although the page has gathered only few hundred followers, disinformation and security experts see it as significant.
Some experts say that what seems a Chinese media offensive in Slovakia forms part of a wider global international communication strategy and media campaign, focused on the coronavirus pandemic. Others fear it is the beginning of a new "hybrid threat".
Pandemic puts China's image to the test
Dominik Stepanovic, an expert from the analytical unit of the Slovak Defence Ministry, and author of the recent report, told BIRN that China felt "under growing pressure" in terms of its image because of the pandemic.
"Pointing to Wuhan as the source of contagion feeds into a general negative view of China in the world," he said.
"This is enforced by accusations of an inadequate first response to the COVID-19 threat and of the regime's efforts to cover up the situation at the time when they could have prevented the pandemic with earlier measures," he added.
"This communication strategy is similar in all European states, so it's not a unique event visible only in Slovakia," he continued.
To revamp its global image concerning its response to the outbreak, China took a page out of the Kremlin's playbook, experts say – aiming to change public perceptions more through state-run propaganda than via different disinformation channels.
In line with this, China's embassy in Slovakia in recent months used its official Facebook and Twitter pages to change the narrative concerning the COVID-19 outbreak in Wuhan.
It insisted that "there are no wet markets with wild animals in China" and tried to put the blame on the US instead, concerning the origin of the virus.
Visitors to the embassy web page learn that reports about Chinese doctors being punished for making early warnings about the new virus were false; such doctors were in fact "rewarded by the central authorities" for their efforts.
The campaign's message is clear: China is a hero, no one is to blame for the virus and the world should now focus on cooperation.
Media campaign has striking effect on public
Victor Breiner, a cyber-security expert and founder of Infosecurity.sk, said the change in Chinese communications in Slovakia was significant, even though, with only around 450 fans, the Facebook page still lacked influence.
But while the embassy's Facebook page statistics look unimpressive, public opinion tells a different story.
A survey conducted by Focus agency for Dennik N media in early April showed that over 67 per cent of Slovaks believed China was helping their country to fight the virus while only 21 per cent of respondents thought the same of the EU. Another 28 per cent thought the EU wasn't helping Slovakia at all.
Interestingly, previous opinion polls revealed no strong feelings by Slovaks toward China, according to Slovak experts on China.
This suggested that Chinese aid and media campaigns during the pandemic had significantly change public opinion in Slovakia in a relatively short period.
The Slovak government clearly helped make this change, by openly promoting Chinese assistance in the fight against the virus. Slovakia not only purchased health supplies from Chinese companies but publicly thanked Beijing in widely watched press conferences.
Photos with then prime minister Peter Pellegrini and interior minister Denisa Sakova, giving the "thumbs up" from inside a cargo plane, surrounded by mountains of boxes adorned with Slovak and Chinese flags, spread on Facebook like wildfire.
While China's assistance came too late to help save Pellegrini's career – his party still lost the parliamentary elections held at the end of February – it benefited Beijing.
The new government of Igor Matovic, however, has taken a different approach. Since becoming premier at the end of March, neither Matovic nor any other government minister has made public appearances hailing Chinese assistance.
"They understood that welcoming these cargos at the airport helped China the most," Matej Simalcik, executive director of the Central European Institute for Asian Studies, CEIAS, told BIRN.
No stranger to the Slovak media world
While China has linked its latest media offensive with the pandemic, it is no stranger to the media landscape in Slovakia and the rest of Central Europe.
After China's CEFC bought the owners of the Czech magazine Tyden and television station Barrandov in 2015, the same company tried to buy the most popular influential Slovak station, TV Markiza, together with the oligarch-owned PENTA financial group.
In the end, the deal fell through. "China is definitely trying to influence the media discourse [in Central Europe]," Simalcik says.
"In the Czech republic, it led to a situation where, since the Chinese investor stepped in, their media started presenting a solely positive image of China," he added, citing analysis by ChinfluenCE, a project mapping China's growing influence in Central Europe.
According to Simalcik, for years China was not getting much mainstream media attention and its narratives were present more in alternative media with poor reputations, such as the portals Hlavnespravy, or NoveSlovo.
That all started changing in 2018 and 2019, when the mainstream political magazine Trend, owned by PENTA, started publishing propaganda articles signed by the Chinese ambassador to Slovakia, J.E. Lin Lin. "Trend was an exception in the mainstream media space," Simalcik said,
He said the Chinese ambassador's advertorial in Trend from August 2019 was published as a part of an international propaganda campaign aimed at presenting the world with China's hostile view of the pro-democracy protests in Hong Kong.
In his paid-for article, Lin Lin tried to delegitimize the protest movement in Hong Kong, accusing it of using terrorist tactics and of being financed from abroad.
In early March 2020, the Chinese embassy attempted the same approach again, aiming to post a paid advertising article in Trend magazine about China's role in fighting the pandemic. That was only thwarted by the strong negative reaction from a major part of the magazine's staff.
"According to them [the staff], the text included some strongly misleading and false statements and they asked the management not to publish it," Miroslava Kernova wrote in a report that the media-monitoring site Omediach.sk published on April 1.
Common European strategy towards Beijing needed
Vladimir Bilcik, Slovak MEP from the liberal Spolu (Together) party, says disinformation campaigns, including Chinese propaganda attempts, should not be taken lightly. "Disinformation campaigns in all of Europe and in Slovakia have grown significantly during the pandemic," he told BIRN.
"That's why we need to be cautious towards the communication activities of China and the Chinese administration.
"In the context of the pandemic, it is important to focus on facts and truth and I think the best answer to the active communication of China here is a strong and clear common European strategy and communication towards Beijing," he added.
Slovakia's new government brought with it a promise of a clearer pro-EU and pro-NATO foreign policy. To commemorate Europe Day on May 9, three top Slovak officials signed a joint statement, promising a "unified and responsible" foreign policy.
Matej Simalcik, from CEIAS, thinks China's recent propaganda in Slovakia is part of a wider soft-power operation of the Beijing government in the region.
In his opinion, China's efforts, unlike Russia's, are not aimed at undermining the unity of the EU, or at disrupting trust in democratic institutions, as China wants a strong EU, seeing that as its best business partner. Simalcik believes the main goal and audience of the canpaign are internal – "to keep internal stability in China and the power position of the Chinese Communist Party".
"The image of China as someone who helps others, and who handled the pandemic better than the highly developed Europe or United States, is a very important symbol," he said, adding: "And when these narratives help them create some links to local politicians that will lean towards China, that's a nice bonus."
But MEP Victor Breiner believes China's intentions are more worrying and that one of their goals is to undermine the unity of Slovak foreign policy. "They want to popularize conflicting narratives and criticize the current ones presented by the foreign minister or the minister of defence," he said. "That is basically their enemy."
For that reason, Chinese or any other propaganda and disinformation efforts should be seen in a broader context, and addressed in Slovakia's new security strategy.
"These disinformation campaigns are part of hybrid threats; they are hostile, non-combative military operations," he told BIRN.
"Today, wars are fought in cyber space; they can be via an attack on strategic institutions, but also by winning hearts and minds of citizens. And that is a security problem," he concluded.