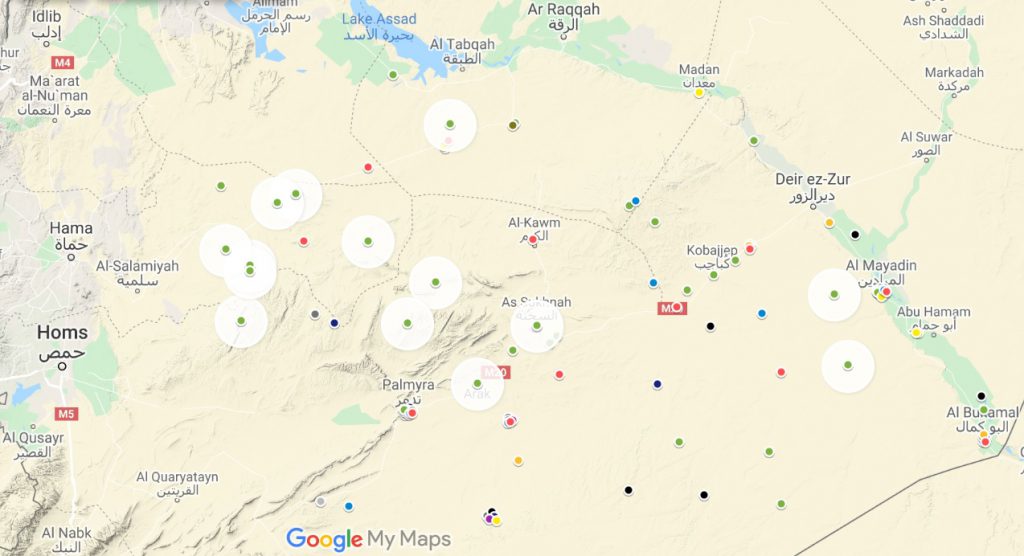 Following is the June installment of "ISIS Redux: The Central Syria Insurgency," a monthly update on the ongoing attacks by the terrorist group ISIS in central Syria. The May update can be read here, the April update here, and a full background and analysis of ISIS's resurgence can be read here.
In June, ISIS militants carried out at least 14 attacks killing at least 26 pro-regime fighters in the Homs, Deir Ez Zor, Raqqa, and Hama governorates. An additional attack left three local regime soldiers dead, but it is unclear if this attack was carried out by smugglers or ISIS militants and has therefore been excluded from this month's data. While both the number of reported deaths and number of attacks are lower than those documented in April and May, June saw the continued geographic expansion of ISIS attacks. This was also the second month in a row in which ISIS carried out at least one high quality* attack in all four provinces in which it is active.
ISIS militants carried out a minimum of four attacks against Syrian regime forces in Hama, twice as many as in either April or May, leaving a total of at least six dead and five wounded. The first of these represents one of ISIS's most complex attacks to date. On June 10, ISIS militants pushed deep behind regime frontlines and seized two small villages in eastern Hama, killing at least three local regime fighters in the process. Pro-regime militias retook the villages with the support of Russian jets the following day.
In the first week of June, ISIS militants captured and executed three soldiers, including a major, just 45 miles east of Homs city, and ambushed a militia commander while he was on leave north of Sukhnah. On June 10, five ISIS fighters on motorcycles ambushed and killed three regime militiamen in the mountains northwest of Sukhnah. On June 13, militants targeted the car of a Liwa al-Quds commander in Deir Ez Zor with an IED, wounding him and killing a second man.
In the second half of June, ISIS militants conducted two sophisticated attacks on regime positions. The first, on June 18, targeted a checkpoint belonging to the Syrian Army's 4th Division in central Raqqa, just south of the regime's border with the U.S.-backed Syrian Democratic Forces. The attack left six dead, including the 4th Division's commander of the sector, and five wounded. On June 21, ISIS attacked a regime base 10 miles west of Mayadeen in Deir Ez Zor. Few details of the attack are known, but at least two regime soldiers were killed and several were captured.
Regime forces continued their anti-ISIS operations throughout June, although to a lesser degree than in the previous two months. Liwa al-Quds fighters, having completed their 20-day operation in Raqqa and East Hama on June 4, conducted a new operation along the Syria-Iraq border that ended on June 21. The Russian-backed National Defense Forces center in Damascus also sent its third and fourth batches of fighters to Deir Ez Zor on June 10 and June 30.
Although the number of ISIS attacks have declined slightly from the previous two months, June witnessed a clear uptick in the lethality of attacks that were carried out. The number of reported attacks in Deir Ez Zor continues to decrease while ISIS cells appear to have fully entrenched themselves on the mountains overlooking eastern Hama and central Homs. ISIS will likely continue to operate at June's more irregular pace as it focuses its efforts on securing basic goods for its fighters. As the Syrian economy collapses, trade to central Syria has dried up, depriving ISIS militants—and locals—of their key source of food and basic goods. If ISIS cells continue to struggle to acquire the supplies they need from local channels, it is likely that they will carry out more daring raids further west into the Hama and Homs governorates.