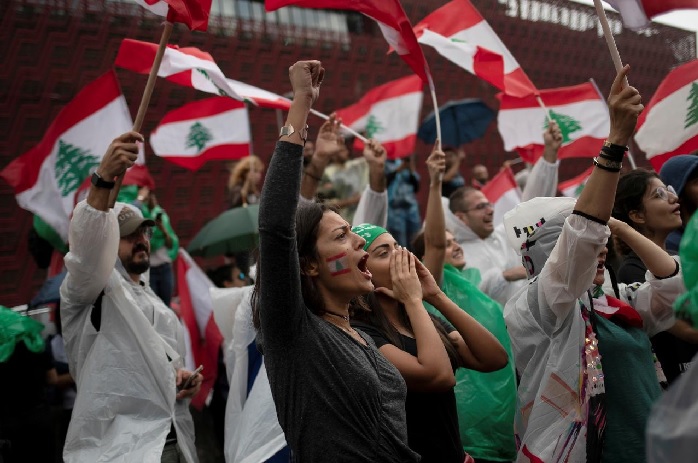 The expected verdict in the Special Tribunal for Lebanon is now set for Aug. 7 after being delayed from May. It is already clear that the tribunal will issue a judgment concerning the four accused and not against the group to which they belong: Hezbollah. This means that each of the nowhere-to-be-found accused will be issued with a judgment independently, which insulates Hezbollah from any direct legal accusation, even though the political accusation has been issued by all since the day of the assassination of Rafik Hariri in 2005.
Hence, real justice will not be served and, moreover, Lebanon is in no place to be able to impose this much-needed justice. It seems unfortunate that the amount spent by the Lebanese government, which bore half the cost of about $460 million, seems to have been a complete waste. It looks more and more like a political tool that Saad Hariri tried to use, but that he did not have the power to control and which ended up putting pressure on him rather than Hezbollah.
Indeed, he should have known that, if this tribunal were to issue a real judgment, then only an international military force would be able to execute it. This is fantasy, as today even a Hezbollah-affiliated thug in Lebanon cannot be bothered by the law or its officers.
Unfortunately, in most of his political actions, Saad Hariri has played a bigger hand than he could handle. Often wrongly evaluating his strength and the intentions of some of his Western backers, instead of making gains on the ground he has been forced to call for international help and support. Yet, in all fairness, he was no match for Hezbollah; few in Lebanon are today and not only because of the Iranian backing, but also because of its organizational structure and discipline.
No one expects a major surprise in the judgment, and no one ever expects to see the four accused face any kind of sentence. In fact, the only party able to push for and conduct a trial in Lebanon today is Hezbollah. Hezbollah could easily launch an anti-corruption campaign and have the capacity to bring the accused to justice — but only its form of justice.
In this sense and as crimes of poverty increase in the country, it is quite interesting to notice a new spin about Lebanon from some researchers and thinkers who share the ideas and the cause of Hezbollah. These are not the most well-known and affiliated people, but are left-leaning and support the so-called resistance axis against "Western and US imperialism." These writers have started to state that Hezbollah has a responsibility in the economic collapse of Lebanon. The party's responsibility is that, after Rafik Hariri came to power, it entrusted Lebanese politicians with the economy of the country without any surveillance or control. Even if it was busy fighting the Israeli occupation and Western conspiracies in Syria, Hezbollah should have kept an eye on the economy and not let it become plagued with inefficiencies and corruption. The most interesting part of their argument is that they now call on Hezbollah to amend the situation without saying how.
This reasoning basically absolves Hezbollah of any major wrongdoing in the corruption and collapse of the country, but also demands action now to fight corruption. So, in this line of thought, and as the political accusation of the Special Tribunal on Lebanon looms, should we expect a massive anti-corruption trial sponsored by Hezbollah that will bring to justice many of the politicians that the protesters want to see behind bars? This could ease the pressure and see it take stronger direct control of the country. The accused being from different confessions and Lebanese parties would also be an attempt to gain more international support for any government and show that reforms are about to take place. Let's face it, it seems evidence would not be too hard to collect to make viable cases.
Some other signs also appear to indicate that Hezbollah is looking to take control of the corruption file. There are rumors in the financial sector that now indicate Hezbollah's acceptance of a forensic investigation of the central bank, despite the finance minister's opposition. It is also interesting to note the declaration of ex-finance chief Alain Bifani, who this week claimed that bankers smuggled up to $6 billion out of Lebanon. His historical opposition to Rafik Hariri and Fouad Siniora should be noted too.
Yet, as chaos and insecurity rise, Hezbollah might not need to make such drastic and bold moves. Many worried Lebanese will start to look at the most organized group in the country to fill the void and stop the chaos. As they start facing more theft, violence, poverty and insecurity, the Lebanese will no longer turn to the state that couldn't even bring criminals to justice, but might instead turn to the criminals to protect them and keep them safe. They will turn to the murderer and ask him for protection and order. This is becoming a true and tragic possibility: People asking for the order of a Hezbollah dictatorship.
The Special Tribunal on Lebanon verdict has become obsolete, but it might be accompanied by protests by courageous Lebanese asking, in vain, for political justice. In fact, the political verdict will not be for the four accused's protector Hezbollah, but it will be a death sentence for Saad Hariri's use of his father's vision for Lebanon as a political platform. This is now a closed chapter; not even his shrinking number of supporters will be convinced anymore.
Many worried citizens will start to look at the most organized group in the country to fill the void and stop the chaos.
Khaled Abou Zahr
Lebanon needs an equivalent of the Vichy trials, which France went through after the Second World War. Every single group that participated in or helped the Syrian occupation, followed by the Iranian one through their proxies, should be brought to justice. This is the true and only source of corruption and illness in the country — a true treason to sovereignty.
Unfortunately, as the French saying goes, "The reasoning of the strongest is always the best." So justice seems impossible to achieve today, as the Iranian occupation is becoming ever more dominant. Moreover, Lebanon is on the way to complete dissolution, and we are going from talking about the "Venezuelation" to the "Somalization" of Lebanon. Basically, a no man's land where warlords rule. In these conditions, should people care about justice or mere survival?