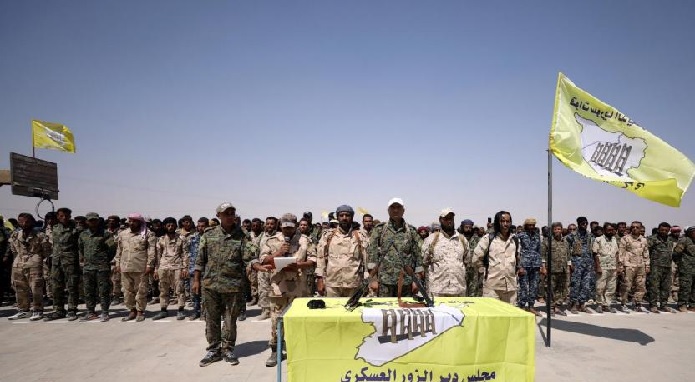 The Syrian Democratic Forces (SDF) announced launching the second phase of its "Deterring Terrorism" campaign to track down and pursue ISIS cells in northeastern Syria, along the Euphrates River basin and areas on the Iraqi border.
The SDF Media Center issued a statement saying that the operation has kicked off in cooperation with the international coalition, adding that it targets several cities along the northern Euphrates River Basin in Deir Ezzor.
The statement explained that the campaign involved the Special Anti-Terrorism Units (YAT), in coordination with the international coalition and air support forces, reiterating that it will continue until the goal set by the General Command is achieved.
The spokeswoman of Deir Ezzor Military Council, Lilwa al-Abdullah, announced that the campaign was launched at the request of the tribes' notables in the region, after meeting with the Commander of the SDF, Mazloum Abdi, stressing that it aims to establish security and stability in the region.
Recently, ISIS terrorist attacks increased against civilians, posing a direct threat to their lives.
Meanwhile, the commander of US Central Command (CENTCOM), General Kenneth McKenzie, said that the threat of ISIS attacks is increasing in Syrian areas under the Russian and regime control.
"The conditions that led to the rise of ISIS still obtain out there in the west, that's unfortunate, and I am worried about that," he added.
In an interview with Voice of America (VOA), McKenzie explained that there's always going to be some form of insurgency with these factors in this area.
"We want to establish local systems that will be able to handle (the insurgency) so they won't need us to do it, except with very, little support," he noted.
Last week, McKenzie met with Abdi in Syria during his visit to the eastern Euphrates River Valley and informed him that they remain partners.
"We have tasks that remain to be accomplished against ISIS up and down the Euphrates River Valley. … We also talked about SDF management of the IDP (internally displaced persons) and the prison population that's there."
McKenzie said that CENTCOM is not directly involved in the issue but highlighted some concerns.
"We're concerned from a security perspective and we're concerned from a humanitarian perspective."