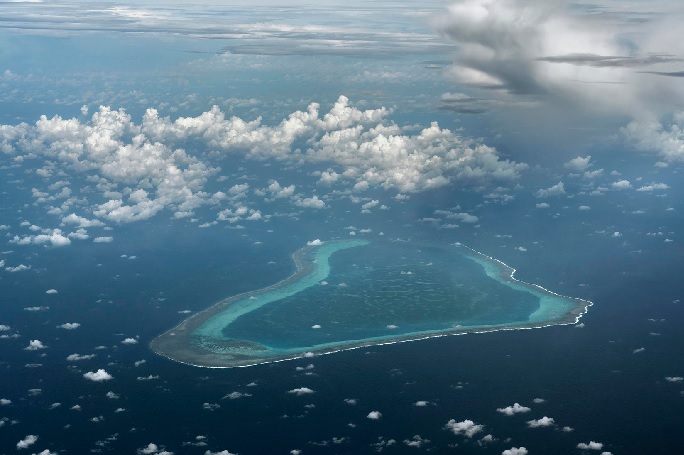 While Southeast Asian countries support the U.S. position on the South China Sea, they fear it could be a flash point for conflict.
Tensions between Washington and Beijing continue to simmer over trade, human rights, alleged Chinese hacking, and COVID-19, among many other issues. And just yesterday, the United States ordered the closure of the Chinese consulate in Houston, Texas over allegations of spying and industrial espionage. Another long-standing flash point between the two major powers has been the South China Sea, where China unlawfully claims sovereignty over waters that several Southeast Asian states consider their own. Earlier this month, Secretary of State Mike Pompeo issued a full-throated rejection of Beijing's policy in the region and reiterated that refrain in a speech today. USIP's Brian Harding and Vikram Singh discuss what you need to know about escalating tensions over the South China Sea.
Can you explain the South China Sea dispute and the U.S. role?
Based on what Beijing calls "historic rights," China claims vast swaths of the South China Sea, including waters and features also claimed by the Philippines, Vietnam, Malaysia, and Brunei. With no reference to international law, China's "nine-dash-line" encompasses 80 percent of the South China Sea reaching south more than 1,000 nautical miles from China's coast, to within 50 nautical miles of Malaysia. Within these waters lie features occupied by China, the Philippines, Vietnam, Malaysia, and Taiwan, including three artificial islands that China built in 2012 and has since developed into military bases.
The United States is not a party to these territorial disputes and has been careful to not take a position on the sovereignty of particular waters or features. However, Washington has long objected to China's expansive unilateral claims. As Secretary of State Hillary Clinton first declared at the 2010 Association of Southeast Asian Nations (ASEAN) Regional Forum in Vietnam, "the United States has a national interest in freedom of navigation, open access to Asia's maritime commons and respect for international law in the South China Sea." This has remained U.S. policy since, and the U.S. Navy regularly conducts freedom of navigation operations to challenge specific maritime claims and to demonstrate that "the United States will sail, fly, and operate wherever international law allows," as repeated secretaries of defense have asserted, most recently Secretary Esper on July 21. The U.S. Navy has also recently ramped up the pace of deployments on what the United States considers to be the "high seas" in the South China Sea, including two major shows of force this month by two U.S. aircraft carriers conducting dual-carrier operations.
Why did Secretary Pompeo recently announce the United States' rejection of China's maritime claims in the South China Sea?
Secretary Pompeo on July 13 issued a statement that declared China's maritime claims in the South China Sea to be unlawful, a forthright declaration of what has long been the thrust of U.S. policy. The statement also called out Beijing for using "intimidation to undermine the sovereign rights of Southeast Asian coastal states" and declared that "the world will not allow Beijing to treat the South China Sea as its maritime empire."
The statement was released on the fourth anniversary of a landmark 2016 Arbitral Tribunal decision under the U.N. Convention of the Law of the Sea that determined that China's claims to "historic rights" has no basis under international law, meaning that the nine-dash line has no legal merit. The Tribunal also ruled that no "islands" exist in the South China Sea, only features, meaning no rock or reef is accompanied by a 200-mile Exclusive Economic Zone under international law. It also clarified that underwater features cannot be claimed at all, including Mischief Reef, where China has built an artificial island with a military base. China rejected the tribunal's decisions outright.
Pompeo's statement articulates the practical implications of these determinations as it relates to various features in the South China Sea occupied by Vietnam, the Philippines, and Malaysia, where China routinely harasses fishing vessels and hydrocarbon exploration on the basis of its unlawful claims. In the week following Pompeo's statement, U.S. embassies in Southeast Asia have issued a flurry of statements and op-eds on these themes, with Assistant Secretary of State for East Asia and Pacific Affairs David Stilwell and Secretary of Defense Mark Esper also making prominent remarks on the subject.
How are regional countries responding to the announcement?
Southeast Asian countries largely support the content of Secretary Pompeo's statement that the United States views China's claims in the South China Sea as unlawful. In particular, Vietnam and the Philippines, the two Southeast Asian countries with the most significant overlapping claims with China, should see this as strengthening their hands. However, there is widespread concern in the region about escalating U.S.-China tensions and worry that the South China Sea could become the spark that lights a military conflict between China and the United States.
While the countries in the region hold deep concerns over the security implications of China's rising influence and oppose China's militarization of the South China Sea, they also worry that the United States is ratcheting up tensions with China in ways that could be destabilizing. Ultimately, regional countries do not want to have to choose between the United States and China and they are concerned that deteriorating U.S.-China relations will force such a choice.
How does the dispute over the South China Sea fit into the larger escalation of tensions between Washington and Beijing?
The South China Sea dispute is central to regional and international friction with China, including between China and the United States. Most Asian powers agree with the U.S. framework of a free and open Indo-Pacific based on rules, norms, and international law. This is incompatible with China's unlawful claims. Because China views sovereignty claims as a core interest that it will not compromise, the prospects for mutually acceptable deals remain slim. The United States supports peaceful dispute resolution, but if it proves to be impossible, Washington wants other nations to be capable of defending their own interests. Secretary of Defense Esper said in his recent remarks that the United States wants to help ensure "Southeast Asian countries can maintain and defend their own waters. That's what we want to do, make sure China respects the sovereignty of others."
China seeks to gain de facto control of disputed territory while keeping any tensions below the threshold of conflict. In large part, China is succeeding with this plan. The People's Liberation Army Navy, Air Force and Chinese Coast Guard have steadily increased their ability to mass force and exert control out to their nine-dash-line claim and beyond. This creates flash points with rival claimants and with non-claimants like Indonesia when Chinese forces escort fishing vessels into their waters. It also drives conflicts with nations like the United States that will continue to assert their rights of passage through international waters claimed by China.
A confrontation with a U.S. Navy freedom of navigation operation or escalation with a U.S. ally or partner could spark a Sino-U.S. conflict. Even as tensions run high, the United States and China should establish mechanisms for communication and conflict management. These could include protocols for communication between deployed air and naval forces to ensure de-escalation and disengagement, hotlines between military commands, and a recommitment by China to follow the Code for Unplanned Encounters at Sea (CUES) as agreed in 2014.