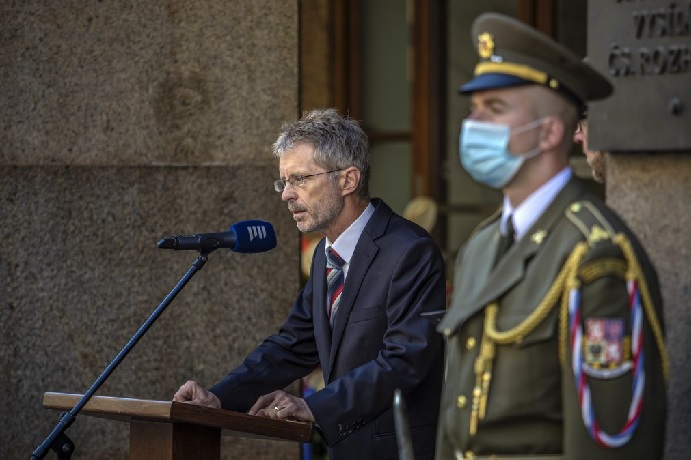 Both Poland and Hungary have found themselves embroiled in various diplomatic spats with Germany, while the Czechs stress democracy with an upcoming visit to Taiwan in the teeth of fierce Chinese opposition and more support for Belarusian demonstrators.
With less news to cover in the last month of the summer, German and Polish media found the time this week to discover that Arndt Freytag von Loringhoven, the new German ambassador to Poland, has been waiting for about three months to take up his post because the Polish side is still to agree to his appointment.
As there is no official explanation for this unusual situation, the media on both sides of the border have indulged in some speculation. One hypothesis is that the Polish side is disturbed by the fact that the ambassador's father was a German army officer during World War II and assigned to Hitler's bunker at the end of it, though the man was never charged with war crimes.
Other speculation has it that the ambassador's posting has fallen victim to a minor kerfuffle between Germany and the governing Law and Justice party (PiS) during President Andrzej Duda's recent re-election campaign. In what many observers regard as part of the government's preparations to lay the ground for media 'reforms' that would reduce the share of German media ownership on the Polish market, Duda repeatedly accused German newspapers of bias during their coverage of the election. Duda even went as far as to single out one reporter by name, accusing them of being a part of a German attempt to interfere with the result of the Polish poll.
Poland and Hungary Roth'd up
Both Poland and Hungary also found themselves at the sharp end of German diplomacy as Michael Roth, State Secretary for European Affairs of the German Foreign Office, accused the two countries of democratic backsliding in an interview with t-online.de.
Roth declared that one of the reasons for launching an Article 7 procedure in September against Hungary was antisemitism – an accusation that prompted a fierce reaction from the Hungarian government.
Foreign Minister Péter Szijjártó – although himself away on a visit to China – summoned the German ambassador to the Foreign Ministry to protest against the allegations. He also wrote in a Facebook post that the Jewish community in Hungary was safe, Jewish cultural festivals do not need to be protected by heavily armed policemen, and the restoration of synagogues and Jewish cemeteries are financed by the state. Judit Varga, the justice minister who also covers EU affairs, weighed in to protest at length on her Facebook page against double standards and the unfounded criticism.
The government-loyal media also did their bit by reporting on antisemitic attacks in Germany lately. Origo, the government's flagship propaganda news site, played the 'Soros-card' by claiming Michael Roth is a close ally of Hungarian-born US financier George Soros and thus a leading figure in the anti-Hungarian lobby. The news site even went as far as to claim Roth's ill-feelings towards Hungary were down to the Hungarian government's traditional family policy that has not succumbed to LGBT ideology. Roth is openly homosexual.
The row with German diplomacy comes at an uncomfortable time for the Hungarian government, which is facing criticism freom European institutions concerning the rule of law and abiding by European values. With Germany having taken over the EU's rotating presidency in July, the Hungarian government had expected that political criticism towards Hungary and its ally Poland might be toned down a bit. Prime Minister Viktor Orbán returned from the EU council meeting in July triumphant, claiming that no political conditionality would be attached to the European funds – yet the four biggest groups in the European Parliament already signalled that they will demand tougher rule-of law conditions when discussing the next EU budget. The row with Michael Roth can be seen as a curtain-raiser ahead of the debates expected this autumn.
Infighting heats up in PiS governing coalition
With a Polish government reshuffle expected in September, many commentators have noted the increased assertiveness lately of Justice Minister Zbigniew Ziobro, the leader of one of two parties making up Poland's governing coalition in addition to Law and Justice (PiS). Among other things, Ziobro has advocated withdrawing Poland's commitment to the Istanbul Convention, demanded Poland veto the EU agreement on the next budget and recovery fund if any rule of law conditionality formulation was included, and intensified his rhetoric – and, potentially, his course of action as the country's chief prosecutor – against what he calls the "LGBT threat".
It is now a given that Ziobro is vying for the leadership of the governing camp in light of PiS leader Jaroslaw Kaczynski's anticipated retirement. Yet so far Kaczynski seems to prefer Prime Minister Mateusz Morawiecki to hardliner Ziobro as the man to take over: the PiS leader came out in defence of the prime minister after the EU budget deal was cut, and the question of the Istanbul Convention was pushed onto the back burner by sending it to the Constitutional Tribunal.
Commentators regard Ziobro's pushing his weight around actually to be a sign of his weakness. Having been 'rejected' by Kaczynski, Ziobro could be laying the ground for a future in which he leaves the governing coalition and ends up competing against PiS – and the far-right – for conservative voters. Within this scenario, the logic of Ziobro's recent media frenzy, in which he repeatedly speaks about the "ongoing culture war" with a West corrupted by "LGBT ideology" and "political correctness", becomes more obvious: winning over voters from a PiS that Ziobro claims has allowed itself to "go soft".
Breaking the China
The Czech Republic, with Vaclav Havel – dissident, playwright and first Czech President – as its figurehead, earned a reputation for promoting human rights above messy concerns like trade and investment. That legacy has been somewhat tarnished throughout the years of his successors, Vaclav Klaus and Milos Zeman, but now seems to be reasserting itself against a backdrop of the protests in Belarus and the threat to Taiwan's existence from China.
Amid rising tensions in the seas around Taiwan as both China and the US conduct military exercises, this weekend Czech Senate President Milos Vystrcil will lead a delegation of about 90 people, including Prague Mayor Zdenek Hrib, to visit what Beijing regards as a "renegade province" from August 30 to September 4.
Former speaker of the Czech Senate, Jaroslav Kubera, had been originally scheduled to visit Taiwan in February, but he died of a heart attack before he could go ahead with the trip. His relatives have blamed two threatening letters from the Chinese embassy in Prague for contributing to his sudden death.
The visit will represent a nadir in relations between the two countries, which just a few years years ago had promised so much. President Zeman, urged on by people close to him like controversial businessman Jaroslav Tvrdik, had prioritised relations with China and forged a friendly relationship with the regime of Xi Jinping, even though it is the government that determines foreign policy. A string of lucrative investments in hotels, companies, media and a football club ensued, culminating in a state visit by Mr Xi himself in 2016.
Then, a slew of scandals and missteps by Beijing in its attempt to influence the political and business elite of the Czech Republic caused a backlash, leading to the Czech Republic taking a series of measures against Beijing, including joining the US effort to marginalise telecommunications company Huawei Technologies.
The Chinese, as is now typical for its so-called 'Wolf-Warrior Diplomacy', is apoplectic about the visit, which is being led by two figures from Czech opposition parties. Chinese Foreign Ministry spokesman Zhao Lijian told reporters on Wednesday: "We oppose certain countries' official ties with Taiwan in whatever form."
However, on Tuesday a statement backing the visit was signed by 23 MEPS, including European Parliament Taiwan Friendship Group Chair Michael Gahler and seven Czech MEPs, as well as legislators from the US, UK, Germany, France, Canada and Australia. The document asserted that the Czech Republic "has the right to develop economic and cultural relations with Taiwan" and that Vystrcil, who is the second-highest ranking official in the country, does not require China's "approval" to visit Taiwan. The signatories also rejected any attempt by China to infringe on the right of European countries to develop ties with Taiwan, in accordance with their national interests and "shared values of democracy and human rights."
The visit comes as the Czech government approved the setting up of a special fund worth about 380,000 euros to help independent Belarusian media and people persecuted or injured in the mass protests against the regime of Alexander Lukashenko, which are now in their third week. The funds are to be distributed in cooperation with local civic organizations via the Czech embassy in Belarus.
Foreign Minister Tomas Petricek also said in an interview with Czech Radio that the EU should withhold funds going to the Lukashenko regime for the time being. He and other EU foreign ministers were due to gather in Berlin on Thursday to discuss possible sanctions on a number of Belarusian officials deemed responsible for violence against protesters and the rigging of an election, which was widely regarded as being neither free nor fair.
Josep Borrell, the EU's top diplomat, is expected to present a list of 20 to 30 names, though Politico reported that this number could be challenged by countries such as Poland or Lithuania, which want a longer list to put more pressure on Lukashenko's regime.
A cleaner Czechia without the laundering
The Czech Republic appears to be doing more to remove its reputation as a centre of money laundering and corruption. In a follow-up report published this week, the Council of Europe's anti-money laundering body MONEYVAL concluded that the Czech Republic has improved measures to combat money laundering and terrorist financing, but still needs to make progress in certain areas, namely financial sanctions related to terrorism and mechanisms to track the movement of cash across borders.
According to an evaluation of 42 countries by the Council of Europe's anti-corruption unit (GRECO) published in June, the Czech Republic was in last place when it came to meeting anti-corruption recommendations in 2019. The Czech Republic was among 15 countries that were subject to a non-compliance procedure in the fourth round by GRECO, and among three countries that did not fully implement any GRECO recommendations. The other two were Bosnia and Herzegovina and Serbia.
The follow-up carried out by MONEYVAL examined a range of legislative, regulatory and institutional measures implemented by the Czech Republic to address these deficiencies. MONEYVAL noted progress and assigned the Czech Republic higher international compliance ratings in three key areas: the improvement of mechanisms for national cooperation and coordination to tackle money laundering and terrorism financing (ML/TF); the strengthening of countermeasures against countries and jurisdictions which represent a high ML/TF risk; and the removing of regulatory gaps for correspondent banking relationships, which will ensure greater transparency for bank-to-bank transactions.
Another bout of Covid in Hungary
Covid-19 is back in the news in Hungary – and, it seems, not even Fidesz politicians are immune to it.
A youth festival in Tihany (on the northern shore of lake Balaton) that was due to feature PM Orban as a speaker had to be called off after one of the organisers – the communications director of Fidesz, Istvan Hollik – tested positive for the coronavirus. Hollik apologised and wrote that he had not left the country all summer long and kept to the lockdown rules, but evidently the virus is already inside the country's borders.
The infection had immediate repercussions: Gergely Gulyas, the minister heading the Prime Minister's Office, and his deputy both announced they would quarantine at home after having met the communications director at a private party during the weekend.
New daily infections are steadily growing in Hungary, reaching 92 on Thursday. Budapest Mayor Karacsony has already warned that some new restrictions might be necessary in the upcoming weeks if numbers get out of hand.
A brutal beating in Brussels
The fallout from the death of a Slovak man in Belgian police custody two years ago continues to be felt, as Belgium's former interior minister, Jan Jambon, was called in to defend himself after allegations that he had knowledge of the fatal arrest at Charleroi Airport.
Earlier this month, shocking CCTV footage emerged showing Belgian police violently restraining a Slovak man at Charleroi airport in 2018. Images showed officers restraining Jozef Chovanec by putting a blanket over his head and one officer sitting on his rib cage for 16 minutes. The images also showed several officers laughing during the incident that occurred in February 2018, while another appears to give a Nazi salute. Chovanec was taken to hospital, but fell into a coma and died the next day.
Chovanec had owned a company that recruited Slovakian construction workers for projects in Belgium, and he frequently commuted between the two countries for his business. His family said they do not know the reason for his erratic behaviour during police custody, which involved repeatedly banging his head on the wall of his cell, and an autopsy revealed he had not been under the influence of drugs or alcohol.
Slovak Foreign Minister Ivan Korcok this week expressed his "shock" at the CCTV footage and the Slovak government has demanded an inquiry.
Current Belgian Interior Minister Pieter De Crem and Justice Minister Koen Geens appeared before the Interior and Justice Committees on Wednesday after images of the arrest surfaced last week.
De Crem told MPs, based on information received from his foreign affairs colleagues, that on July 2, 2018 a director of the Federal Public Foreign Affairs Service received the Slovak ambassador regarding the death of Chovanec. During that meeting, the ambassador stated that he had already been in contact with then-interior minister Jambon's chief of staff. Last week Jambon denied any knowledge of the matter until the reporting of it this month.