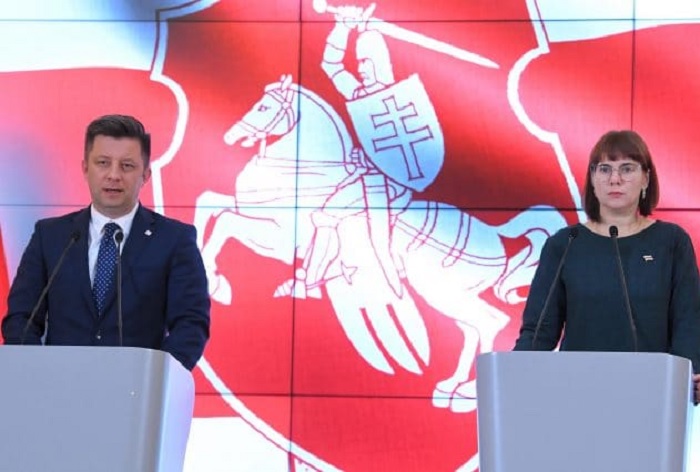 Belarusian opposition leaders are gathering in Warsaw as Lukashenko decapitates almost the entire Coordinating Council via arrests or forced exile.
Svetlana Tikhanovskaya, the opposition candidate who many Belarusians believe was the real winner of August's presidential election, was greeted with applause by Belarusians living in Warsaw as she arrived on Wednesday morning at a villa in the Southern Prague district of the Polish capital to meet them.
Flanked by Polish Prime Minister Mateusz Morawiecki, Tikhanovskaya rushed to embrace Veronika Tsepkalo, her colleague from the now-famous female opposition trio who decided to take on the Belarusian leader Aleksander Lukashenko in the election after Tikhanovskaya's husband had been thrown into prison.
The two women were forced into exile as soon as a massive wave of demonstrations began against the widely regarded falsified results, which gave Lukashenko an implausible 80 per cent of the vote and Tikhanovskaya just 10 per cent, meaning no second round was required. Tikhanovskaya has since moved to Lithuania, while Tsepkalo relocated to Poland from Ukraine in August.
Maria Kolesnikova, the third member of the trio, is the only one to remain in Belarus, after reportedly being kidnapped by masked men in the centre of Minsk on Monday and driven to the border with Ukraine, where the Belarusian authorities intended to force her to leave the country. According to the accounts of two of her colleagues who were with her at the time, Kolesnikova tore up her passport before crossing the border and walked back into Belarus, preventing the authorities from deporting one of their own citizens. She is now being detained by the Belarusian authorities, according to media reports.
Back at the Warsaw villa, which the Polish government is giving over to the Belarusian opposition for its use over the next 10 years, Tikhanovskaya thanked Poland for its support. "Only new, fair elections will help our country," the opposition leader told the gathered Belarusian guests and Polish media. "We must elect a real president who will not decide with which neighbours we can be friends, but will conduct good neighbourly relations with all countries."
"At the moment, terrible things are happening on Belarusian streets, and violence knows no limits," she added. "People cannot agree with what happened on August 8-9, when they took to the streets and started to defend their rights. For us, for the people, Lukashenko has no legitimacy and we can no longer accept him as our leader."
Prime Minister Morawiecki presented Tikhanovskaya with the keys to the villa, saying: "We wish all Belarusians that they find their real, greatest home as soon as possible in Belarus, but we also realistically know that this fight has to take place somewhere, it has to be conducted and supported."
"All people who wish to lead this struggle in an organised manner will have the support of the European Union, of the Polish state and, I am convinced, of all sides of the political spectrum in Poland," Morawiecki said in front of an audience which included MP's from Polish opposition parties.
After meeting Belarusians, Tikhanovskaya was due to make brief stops at Warsaw University and the Solidarity Trade Union headquarters, before heading to an economic forum in Krynica, southern Poland.
Coordinated attacks on Coordination Council
On Wednesday, reports from Belarus suggested that the authorities had managed now to imprison or force into exile almost all leading members of the country's Coordination Council, the structure put into place by the opposition with the purpose of facilitating dialogue between those currently in charge and civil society in order to watch over a peaceful transition of power. Tikhanovskaya has always insisted that, if she won the election, she would not hold on to power but organise free and fair elections within six months.
By Wednesday midday, only Nobel laureate Svetlana Alexievich, out of all the leading members of the Coordination Council, remained free, though Belarusian journalists reported before noon that unknown men were seen knocking on the doors of the writer's home. Maxim Znak, another member of the Council, was reportedly arrested earlier on Wednesday.
On Monday, two other members of the Council currently in exile in Poland, spoke at a press conference in Warsaw about the manner in which they were forced to leave the country, which was under threat of facing criminal charges and prison.
Pavel Latushka, one of the two opposition leaders speaking on Monday in the Polish capital, described what was happening in Belarus as a "rape" and that over 10,000 people had by now "experienced the 'delicate' behaviour of OMON [special forces] and spent a few days in jail", with 450 suffering torture at the hands of the police. He alleged that prominent protesters were being imprisoned under false charges: "There is no law in Belarus now. The courts and the prosecutor's office give sentences relying on unidentified witnesses, who do not even take their masks off."
Speaking for the Council, Pavel Latushka and Olga Kovalkova said they would welcome international monitoring missions from the Organization for Security and Co-operation in Europe and UN to come to Belarus, "with the purpose of putting an end to the rape and repression against citizens of Belarus and starting a broad dialogue between power and citizens."
"Starting this dialogue is only possible under the condition that all political prisoners are released, repression stops, new presidential elections are declared, which would take place under international control and a new Electoral Commission," the opposition leaders added.
Since the start of the mass protests in Belarus, Poland has expressed its strong support for the opposition and numerous solidarity actions have been organised in the country, where Belarusians are the second largest migrant group after Ukrainians.
On Wednesday morning, Morawiecki said he would soon "present an economic plan for the Belarusian people, for the Belarusian state – one that is aimed at showing that Europe is open to Belarus."
Poland's stance has already angered Lukashenko and his allies in the Kremlin. The Belarusian president suggested that Poland was planning to take over the Grodno region bordering Poland and Lithuania, where protests have been taking place over the past few weeks. And last week, Russian Foreign Ministry spokeswoman Maria Zakharova accused the Polish authorities of "openly interfering in the domestic affairs of Belarus" and being at the forefront of the "EU's unfriendly policy towards Belarus."
Poland hosts several Belarusian media channels, including Nexta, which is said to have played a key role in helping to coordinate protests via its Telegram reporting. The Polish government announced last month it would dedicate 50 million zloty (about 11 million euros) to supporting Belarusian civil society and independent media.