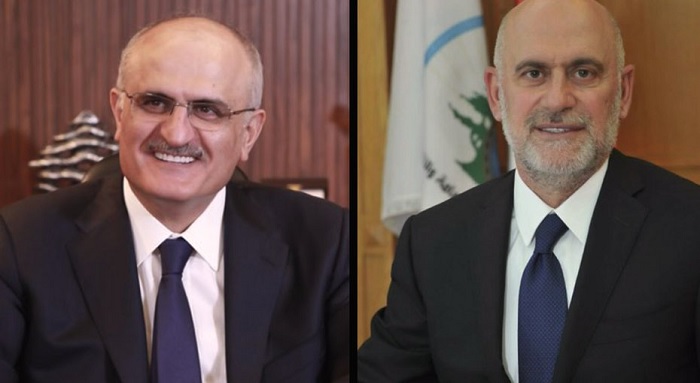 Two Lebanese government ministers are to be sanctioned by the US over their support for the Iran-backed Shia militia group Hezbollah and accusations of corruption.
On Tuesday, September 8, the US Treasury Department announced that Lebanon's ex-minister of public works, Youssef Fenianos, and ex-finance minister Ali Hassan Khalil had been added to its list of "specially designated nationals" (SDNs). This means any US assets they hold are blocked and US officials are barred from dealing with them.
The sanctions have come about in response to the Beirut Port disaster of August 4. In a statement, the Treasury asserted: "The multi-layered crisis in Lebanon stems from decades of corruption and economic mismanagement.
"Some Lebanese political leaders have used backdoor deals and reliance on Hezbollah for personal gain and gains for their political allies ahead of the needs of the Lebanese people."
The Treasury explained that these sanctions show "how some Lebanese politicians conspired with Hezbollah at the expense of the Lebanese people and Lebanese institutions."
What Was Fenianos's Role in Helping Hezbollah?
Youssef Fenianos served as Lebanon's minister of transportation and public works from 2016 until his resignation along with the rest of the Cabinet after the Beirut Port explosion last month. He belongs to the Marada Movement, a Lebanese political party and former militia during the Lebanese Civil War. The party's leadership is close to both Hezbollah and the Assad regime.
The US government claims that from mid-2019 onwards, Lebanese Hezbollah used Fenianos to siphon off cash from public funds by ensuring that Hezbollah-owned companies' tender bids won government contracts worth millions of dollars.
Further, the Treasury stated, in 2015, Hezbollah gave Fenianos hundreds of thousands of dollars in exchange for what it called "political favors". In the same year, Fenianos is alleged to have met regularly with Wafiq Safa, a leading figure in Hezbollah's security apparatus.
It is understood that Fenianos helped Hezbollah gain access to sensitive legal documents related to the Special Tribunal for Lebanon and served as a go-between for Hezbollah and other would-be political allies in the country.
Aside from this, the Treasury claimed, "Finyanus engaged in corruption while in his position as Minister of Transportation and Public Works by diverting funds from the ministry to offer perks to bolster his political allies."
Khalil Helped Hezbollah Avoid US Sanctions
Ali Hassan Khalil is the current assistant to Nabi Berri, Speaker of the Lebanese Parliament, and head of the Amal Movement: a party associated with Lebanon's Shia community. Khalil was finance minister from 2014 until last month, and prior to that served as minister of health from 2011 to 2014.
In late 2017, shortly before the Lebanese parliamentary elections of May 2018, the US Treasury claims Khalil was approached by Hezbollah leaders who offered to support him politically in return for financial benefits.
Subsequently, it says, "Khalil worked to move money in a manner that would avoid U.S. sanctions enforcement from government ministries to Hezbollah-associated institutions.
"Additionally, Khalil used his position as Minister of Finance to attempt to have U.S. financial restrictions on Hizballah eased so that the group would have less difficulty moving money."
On one occasion, the Treasury added, Khalil used his position to exempt a Hizballah affiliate from paying most taxes on electronics imported to Lebanon. A portion of what was paid was collected to support Hezbollah.
In addition to his Hezbollah-linked activities, from late 2019 onwards, Khalil allegedly refused to sign cheques payable to government suppliers in an attempt to solicit kickbacks from the firms. Instead, he demanded that a percentage of the contracts be paid to him directly.
What Good Will Sanctions Do?
Lebanese MP Bilal Abdullah, who is part of the country's the Progressive Socialist Party bloc, told IranWire that these sanctions had been fully anticipated. But he believes they will only do further harm the Lebanese people.
Former MP Fares Souaid told IranWire that he was similarly unsurprised by the two names added to the SDNs list. But he added that the sanctions were intended as "a message directed at Hezbollah, not the Marada Movement or the Amal Movement".
Since 2017, the US Treasury has placed more than 90 individuals and entities affiliated with Hezbollah on the sanctions list, while the US State Department has classified Hezbollah as a foreign terrorist organization since 1997, and a global terrorist organization since October 2001.
Any assets that the two blacklisted ministers might have in the United States are now frozen, and in general, American officials are now prohibited from dealing with them. The US Treasury Department has also threatened that parties involved in certain dealings with the two Lebanese ministers could have "secondary" sanctions placed on them.