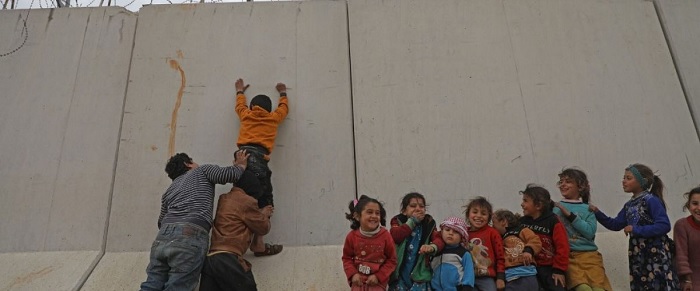 Three days after his attempt to cross the Syrian-Turkish border, Ahmad al-Nasser's fate remained unknown. "He didn't send me a message to reassure me as he did during his previous attempts," al-Nasser's wife told Syria Direct. "He would always let me know that he was okay."
On August 4, al-Nasser got on his motorcycle and set off from his tent at the Atma Internally Displaced Persons (IDPs) camp in the northern countryside of Idlib province, where he lived with his wife, three children, and mother and father, after being displaced one year ago from their hometown of Saraqeb in the southern countryside of Idlib. He was heading for Turkey through one of the smuggling routes in yet another attempt to cross the border in order to "secure a better life for the family," added his wife, Fatima Munzer. But it was his final attempt.
Two weeks after losing contact with him, al-Nasser's wife received news that he was shot by Turkish border guards (Gendarmerie or Jandarma in Turkish). He was fired upon "while trying to cross the cement border wall."
Ahmad's concern was "to feed us and secure our needs as life has become more difficult here due to the high cost of living," explained Munzer. "For his work in construction, all he received was a daily sum of 3,000 Syrian pounds (SYP) [$1.40 according to the exchange rate on the black market], which doesn't even meet our needs for bread alone."
But contrary to what the al-Nasser family had hoped for, Ahmad's attempts resulted in his death, which has deepened the family's suffering. In addition to the pain of losing him, "our suffering has increased because I am unable to pay the $900 [SYP 1,926,000] that my husband borrowed from his friends to pay the smuggler who was supposed to get him into Turkey, and I don't have enough [money] to sustain my hungry children," she said.
Active movement despite failed attempts
Despite Turkey's intensification of surveillance at the Syrian-Turkish border to prevent human smuggling, the Syrian opposition-held areas in northwestern Syria are seeing a notable increase in such operations. This is particularly true since Turkey closed its border crossings on March 13 as part of precautionary measures against the novel coronavirus (COVID-19) and subsequently tightened procedures for the crossing of even critical cases on March 29.
These measures have made a smuggling journey "tantamount to gambling with your life," Ahmad (a pseudonym), one of the smugglers at the Syrian-Turkish border, told Syria Direct. "Smuggling trips have not stopped for years, but young people's turnout to migrate [illegally] went up by 50 percent in August and July in comparison to the previous months of this year," he added.
"Migration of families has reduced a lot recently in contrast with the increased emigration by young people."
According to Ahmad, the success of attempts to reach Turkey depends on several conditions and, consequently, they usually do not succeed the first time. "The trip might be postponed multiple times, and could take days and nights, interspersed with attempts to hide and maneuvers to remain safe," he said.
Ahmad took, as he recalled, "10 smuggling trips in August alone," describing them as "terrifying." While "three of the trips succeeded, the other seven failed, four of them because of [Turkish] border guards stationed at multiple points, and three because the escapees [people attempting to cross the border] were fired upon by the Turkish Jandarma."
Over the past eight months, "the Syrian Network for Human Rights documented the deaths of seven civilian Syrians, including a woman and child, by the Turkish Jandarma," Fadel Abdulghany, the chairman of SNHR, told Syria Direct. And according to the UK-based Syrian Observatory for Human Rights, the Turkish Jandarma killed 452 civilian Syrians, including 80 children and 44 women, between March 2011 and August 13, 2020.
For smuggling people from northwestern Syria to Turkey, Ahmad receives "between $700 and $1,000 per person," he said, down from "$1,500 to $1,700, two months ago," as a result of the deteriorating economic situation in northwest Syria. Nonetheless, the new prices are still high and can only be obtained, as several young people in Idlib told Syria Direct, by borrowing money.
The illusion of a better life
Like many who managed to cross into Turkey illegally, Mustafa al-Mahmoud expected his dreams of a better life to be realized as soon as he set foot in Turkish territory. But days after his arrival in Turkey's Hatay province bordering Idlib, which he spent with a friend, he was surprised that he was not able to "get the Kimlik [temporary protection card] because applying for it is suspended," he told Syria Direct.
This means, as the 47-year-old said, that visiting his daughter who lives in Istanbul is not possible "because I don't have permission to travel, and it isn't possible to get it before a Kimlik card is issued." On top of that, his ability to find work is all but nonexistent unless he legalizes his status in Turkey.
Al-Mahmoud, a father of five who is originally from Syria's southern Daraa province, chose the smuggling route despite its risks after the owner of the house he rents in northwestern Syria "raised the rent from SYP 40,000 [$18.60] to SYP 90,000 [$42]," he said. "I receive $50 [SYP 107,000] a month from my daughter living in Istanbul. I pay the rent with it and spend what is left to cover our needs."
Al-Mahmoud was expecting to leave Idlib back to his hometown of Daraa "only if the regime fell," he said. "But after the pressures of [the cost of] living increased, I borrowed $800 from a friend and got to Turkey through the smuggling route without my family, who stayed there" in Idlib, he said. "I didn't know that the Turkish laws were this strict."
"Instructions were issued to stop granting temporary protection cards to Syrians in most Turkish provinces about three months ago, following the example of Istanbul state," Hussam Sarhan, a lawyer and member of the Board of Directors of the Free Syrian Lawyers Association in Turkey, told Syria Direct. "Three provinces still grant that card: Urfa, Adana and Kahramanmaraş," he said, but this requires people coming from Idlib to Turkey via smuggling networks "to reach those provinces through smugglers inside Turkey, which could make them vulnerable to deportation to Syria," Sarhan added.
"After getting to one of the three provinces and renting a house there, an individual can apply for the Kimlik from the Immigration Department as a resident there, and he is given the card."
Loss on both sides of the border
Restricted by a group of laws and measures, al-Mahmoud has turned to working illegally in the interior section of a sweets shop "for 700 Turkish pounds [SYP 207,900; $96.25] per month, to stay safe from the inspection patrols," he said.
Turkish labor law requires Syrian refugees to "obtain a work permit from the Ministry of Labor," Sarhan explained, "on the condition that at least six months have passed since the refugee obtained the Kimlik."
Before the COVID-19 outbreak, Syrian refugees caught without work permits faced deportation to Syria, according to Sarhan. But since the spread of the virus, "violators have not been deported, and that process has been replaced by imposing penalties on employers, which could extend to closing the violating facilities."
This change has pushed "employers not to hire Syrians without a work permit and a Kimlik card," especially since Turkish law requires employers to "pay monthly insurance of 700 Turkish pounds [$93.95] for each Syrian worker," Sarhan added. This also means the employer is "obligated to pay benefits for the Syrian employee that are not less than the minimum wage under Turkish labor law."
As such, al-Mahmoud's journey has not turned out how he had hoped. "I've been prevented from seeing my family in Idlib, and I can't visit my daughter in Istanbul. On top of that is the anxiety that haunts me because I am in violation, which could end with me being arrested and returned to where I came from," he said.