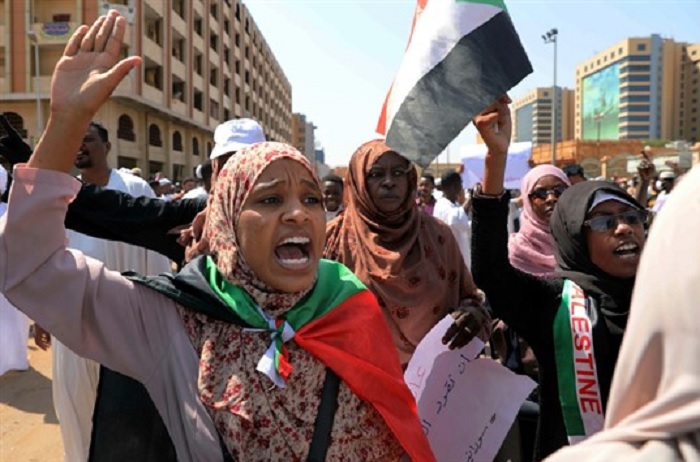 If recent news reports are to be believed, Sudan may be on the verge of joining the list of Arab countries to normalize their relations with Israel, pushed by the Trump administration. Gen. Abdel-Fattah al-Burhan, the Sudanese military chief who jointly leads the transitional government in Khartoum, met with both U.S. and Emirati officials in Abu Dhabi earlier this week to discuss an agreement that would remove Sudan from the U.S. list of state sponsors of terrorism, in exchange for Sudan normalizing its ties with Israel. The New York Times reported Thursday that the State Department is preparing to delist Sudan "in the next few weeks."
Unfortunately, as with so many diplomatic bargains, the White House campaign to get Sudan to recognize Israel could entail a complex dance with Congress and possibly unsavory trade-offs that future Sudanese and other African leaders, and maybe even American and Israeli ones, may come to regret later.
In theory, the purported deal would end more than 50 years of enmity between one of the Arab world's most virulent opponents of Israel, while reportedly infusing up to $3 billion in much-needed U.S. humanitarian and economic aid to Sudan. It would also reassure nervous financial institutions and potential foreign investors that it is safe to do business with Khartoum again, following last year's ouster of Sudanese strongman Omar al-Bashir. These steps are overdue, and as some very credible analysts have suggested, they are critical to ending Sudan's long isolation, reducing its military's iron grip on power and reenergizing the civilian-led push for democracy there.
Late last month, U.S. Secretary of State Mike Pompeo visited Khartoum in an apparent effort to tee up the deal. The trip by America's top diplomat to the one-time home of al-Qaida chief Osama bin Laden was the highest-level visit by a U.S. official since Bashir's ouster, and the first by a secretary of state in 15 years. The last time around, in 2005, did not go so well after Condoleezza Rice got into a public tiff with Bashir's thuggish security service agents, who roughed up Rice's aides and an American reporter traveling with her delegation. In contrast, Pompeo's trip to Sudan was all warm smiles and handshakes, as Burhan's civilian counterpart, Prime Minister Abdalla Hamdok, sought to reassure Pompeo that things really have changed for the better now that Bashir is out of power and in prison on corruption charges.
However, if the White House seals this complex deal, it might lead to discrimination against hundreds of Africans who have fought for more than 20 years to receive compensation from Sudan for its role in supporting the al-Qaida operatives who bombed the two U.S. embassies in Kenya and Tanzania in 1998. More than 200 people were killed in the attacks in Nairobi and Dar es Salaam. Of them, 54 were embassy employees or contractors, including 12 Americans—and, as The New York Times recently reminded us, thousands more were injured, including 139 embassy employees and contractors. At issue now is a devil's bargain that currently calls for Sudan to pay out to the Kenyan, Tanzanian and other third-country nationals who were victims in the bombings only a fraction of what their American counterparts are expected to get in a long-running lawsuit seeking compensation from the Sudanese government.
In May, the Supreme Court unanimously ruled to reinstate $4.3 billion in punitive damages to be paid by the government of Sudan to 700 victims of the bombings, since Sudan had provided al-Qaida operatives with material assistance that helped them carry out the attacks. When victims first lodged a claim in U.S. courts, under the Foreign Sovereign Immunities Act, legal claimants were barred from seeking punitive damages under the provisions of the federal statute. That changed in 2008, after Congress passed a provision that allowed them to file new claims for punitive damages on a time-limited basis. The upshot of the Supreme Court's ruling earlier this year is that Sudan's new reformist government legally must payout a settlement to those 700 victims.
The White House campaign to get Sudan to recognize Israel could entail trade-offs that future Sudanese leaders, and maybe even American and Israeli ones, may come to regret.
But with Sudan-Israel détente now in the cards, there is also a political and financial catch. One week after the Supreme Court's ruling in May, the State Department announced that the U.S. had brokered a deal with Sudan's transitional government that would result in a two-tiered compensation plan, setting out a much higher payout for American citizens versus the payout for the 520-plus foreign-born nationals who, without a doubt, suffered just as much. In the kind of double standard that has become commonplace for a White House administration that refuses to acknowledge the damaging impact of systemic racism and discrimination in the U.S., the Sudan bargain calls for American citizens to receive up to $10 million in compensation, while foreign-born nationals who worked for the U.S. Embassy would receive less than $1 million. Although foreign-born nationals make up the majority of claimants, they would be paid up to $400,000 for injuries and damages, compared with $3 million to $10 million for American citizens, according to The Wall Street Journal.
The Kenya and Tanzania bombings came just five years after the U.S. blacklisted Sudan in 1993 for its support of Hezbollah in Lebanon, al-Gama'a al-Islamiyya in Egypt and Hamas in the West Bank and Gaza. Included in the lengthy inventory of U.S. grievances that placed Sudan alongside Syria, North Korea and Iran as a state sponsor of terrorism was Khartoum's issuance of a passport to Sheikh Omar Abdel Rahman. The notorious "blind sheikh" from Egypt was convicted on federal terrorism charges in 1995 for masterminding a failed plot to simultaneously bomb several targets in New York City, including the United Nations headquarters, the Lincoln and Holland tunnels, the George Washington Bridge, the FBI field office and prominent hotels.
Under Bashir's heavy-handed dictatorship, Sudan maintained its downward spiral as a pariah state for nearly a decade. Khartoum's relations with Washington, however, began to thaw in 2005, after Bashir declared that Sudan was cutting off relations with Iran with an apparent eye toward cooperating with the CIA on intelligence exchanges, in order to forestall the kind of regime-change war that toppled the Taliban in Afghanistan and Saddam Hussein in Iraq after 9/11. Relations cooled again, however, under the Obama administration, due to U.S. and international sanctions stemming from war-crimes charges in The Hague for Bashir's genocide in Darfur. As former CIA Africa analyst Cameron Hudson adroitly notes, that has led Sudanese leaders to accuse the White House of constantly "moving the goalposts" for what it will take to lift Sudan's terrorism listing.
The same refrain was heard again earlier this year from Sudan's transitional government, as the Trump administration pushed for Khartoum to expand nascent efforts to normalize relations with Israel. While it is entirely possible that Pompeo's shuttle diplomacy across the Gulf states will eventually lead to full normalization between Israel and Sudan, there are two other sticking points. After decades of isolation and fiscal mismanagement under Bashir's corrupt rule, Sudan is broke, so its government doesn't have the funds on tap to pay all the victims of the 1998 bombings. Meanwhile, a few Democrats in Congress have rightly called out the White House for applying a double standard to foreign-born nationals in the compensation scheme.
Sudanese leaders, nonetheless, should be asking themselves now whether they can truly risk angering two of their potentially biggest trading partners by treating Tanzanian and Kenyan citizens as less than equal to Americans. Americans, likewise, should be asking whether this kind of diplomacy should continue to pass muster in the era of Black Lives Matter and the country's collective quest to repair and heal from its long, ugly legacy of racism. A genuine thaw between Israel and Sudan can and probably should happen, but not until a compensation deal is in place that treats all the embassy bombing victims equally and fairly.